You are previewing:

Mystery of the Midnight Rider (Nancy Drew Diaries #3)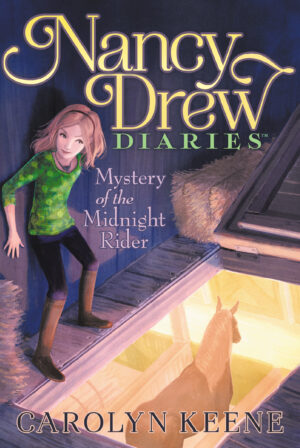 Mystery of the Midnight Rider (Nancy Drew Diaries #3)
Mystery of the Midnight Rider (Nancy Drew Diaries #3)
Age Range: 8 – 12 years
Some equestrians are up to more than horseplay in this third book of the Nancy Drew Diaries, a fresh approach to a classic series.
At the prestigious—and competitive—River Heights Horse Show, the prizes, which range from money to possible placement on the Olympic Team, are so highly coveted that anyone from the riders to the owners will do anything to win…even drug the horses! Who's up to no good? Nancy, Bess and George are on the case!
₵35.00
Only 1 left in stock
SKU:

BK4384
Categories: 9-12 years, Action & Adventure, Age Range, Ages 6-8 years, Author Origin, Book Sets, Children & Teens, Children Classics, Illustrated books, Literary Fiction, Literature & Fiction, Mysteries & Detective Stories, Teens, US/Canadian Authors, Young Reader
Tags: Carolyn Keene, Nancy Drew, Nancy Drew Diaries
Carolyn Keene is a pen name used by a variety of authors for the classic Nancy Drew Mystery series. The first author to use the pseudonym was Mildred Wirt Benson, who wrote 23 of the original 30 books. Other writers who have adapted the "Carolyn Keene" moniker include Leslie McFarlane, James Duncan Lawrence, Walter Karig, and Nancy Axelrod.
Customers Also Bought These