You are previewing:

Moby Dick (Penguin Readers Level 7)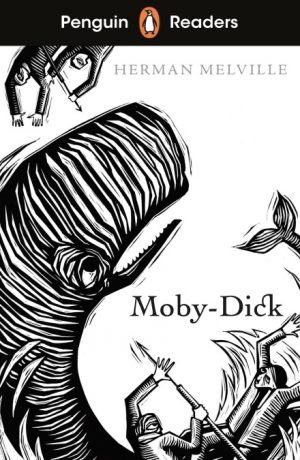 Moby Dick (Penguin Readers Level 7)
Related Products
Customers Also Bought These
Moby Dick (Penguin Readers Level 7)
Age Range: 12 – 17  years
When the young sailor "Ishmael" decides to sail on the Pequod with the mysterious Captain Ahab, he has no idea about Ahab's plans to get revenge on the great white whale Moby Dick. Ahab wants to find and kill the whale at any cost – even if it means losing his ship and his crew.
Penguin Readers is a series of popular classics, exciting contemporary fiction, and thought-provoking non-fiction written for learners of English as a foreign language. Beautifully illustrated and carefully adapted, the series introduces language learners around the world to the bestselling authors and most compelling content from Penguin Random House. The eight levels of Penguin Readers follow the Common European Framework and include language activities that help readers to develop key skills.
Moby Dick, a Level 7 Reader, is B2 in the CEFR framework. The longer text is made up of sentences with up to four clauses, introducing future perfect simple, mixed conditionals, past perfect continuous, mixed conditionals, more complex passive forms and modals for deduction in the past.
₵28.00
Out of stock
SKU:

BK5038
Categories: 9-12 years, Action & Adventure, Activities, Crafts & Games, Age Range, Animals, Book Sets, Children & Teens, Children Classics, Classics, Education & Teaching, Family, Growing Up & Facts of Life, Illustrated books, Literary Fiction, Literature & Fiction, Short Stories, Short Story Collections, Teens
Tags: Herman Melville, Moby Dick, Penguin Readers
Herman Melville was an American novelist, short story writer, essayist, and poet. His first two books gained much attention, though they were not bestsellers, and his popularity declined precipitously only a few years later. By the time of his death he had been almost completely forgotten, but his longest novel, Moby-Dick — largely considered a failure during his lifetime, and most responsible for Melville's fall from favor with the reading public — was rediscovered in the 20th century as one of the chief literary masterpieces of both American and world literature.
Customers Also Bought These