You are previewing:

Killer Mystery Trilogy #1: Killer Mission (Hardy Boys All New Undercover Brothers #31)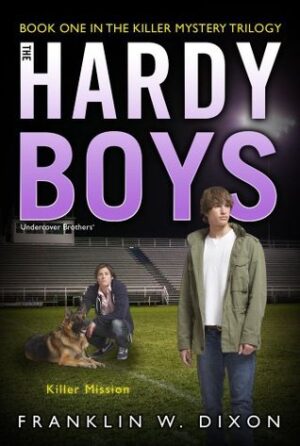 Killer Mystery Trilogy #1: Killer Mission (Hardy Boys All New Undercover Brothers #31)
Killer Mystery Trilogy #1: Killer Mission (Hardy Boys All New Undercover Brothers #31)
Age Range: 6 – 12 years
MISSION: To investigate the shady goings-on at the exclusive private boarding school Willis Firth Academy.
LOCATION: The mountains of New England.
POTENTIAL VICTIMS: The brothers of Gamma Theta Theta, the most elite fraternity on campus, seem to be on the receiving end of all of Firth's biggest (and most dangerous) problems.
SUSPECTS: The members of the frat may seem like brothers to everyone else, but Gamma Theta Theta insiders know that within the ivy-covered walls the boys are definitely not one big happy family….

This mission requires your immediate attention. This message will be erased in five seconds.
₵40.00
Out of stock
SKU:

BK4567
Categories: 9-12 years, Action & Adventure, Age Range, Ages 6-8 years, Author Origin, Book Sets, Children & Teens, Children Classics, Illustrated books, Literary Fiction, Literature & Fiction, Mysteries & Detective Stories, US/Canadian Authors, Young Reader
Tags: Franklin W Dixon, Hardy Boys, Hardy Boys All New Undercover Brothers, Killer Mission, Killer Mystery Trilogy, Killer Mystery Trilogy #1: Killer Mission (Hardy Boys All New Undercover Brothers #31)
Franklin W. Dixon is the pen name used by a variety of different authors (Leslie McFarlane, a Canadian author, being the first) who wrote The Hardy Boys novels for the Stratemeyer Syndicate (now owned by Simon & Schuster). This pseudonym was also used for the Ted Scott Flying Stories series.
Customers Also Bought These