You are previewing:

I Do Not Come To You By Chance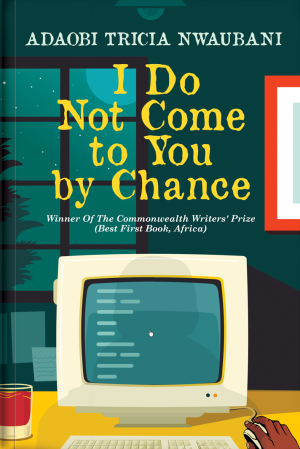 I Do Not Come To You By Chance
Related Products
Customers Also Bought These
I Do Not Come To You By Chance
A deeply moving debut novel set amid the perilous world of Nigerian email scams, I Do Not Come to You by Chance tells the story of one young man and the family who loves him.
As first son and graduate, Kingsley Ibe has a load of responsibilities resting on his skinny shoulders. But times are bad in Nigeria, and life is hard. Unable to find work, Kingsley cannot take on the duty of training his younger siblings, nor can he provide his parents with financial peace in their retirement. And then there is Ola his girlfriend, the sugar in Kingsley's tea. It does not seem to matter that he loves her deeply; he cannot afford her bride price.
But when Kingsley's father falls sick, he becomes desperate to live up to his responsibilities. So he travels to Aba, to his wealthy uncle, 'Cash Daddy'.
Under the avuncular wing of 'Cash Daddy', Kingsley is catapulted into the fast-money world of email scamming where he discovers a profitable talent for persuasive storytelling. But, as the stakes grow higher and Cash Daddy grows more ambitious, Kingsley begins to realise he is in way over his head and that, even in Nigeria, nothing comes for free . . .
I Do Not Come to You by Chance, a book which the author deems an idea that came before the novel, is one that through the Protagonist, Kingsley, attempts to explore the journey from good to bad and the blurred lines in between.
Adaobi Tricia Nwaubani is a novelist, journalist, essayist, and humorist. Based in Abuja, Nigeria, she is the first contemporary African writer to launch a global career while fully domiciled in her home country. Her debut novel, I Do Not Come to You by Chance, won the Commonwealth Writers Prize for Best First Book (Africa).
Her debut Young Adult novel, Buried Beneath the Baobab Tree, based on dozens of interviews with women and girls kidnapped by terrorist group Boko Haram, was published by HarperCollins in September 2018. It won the 2018 Raven Award for Excellence in Arts and Entertainment, and was named as one of the American Library Association's Best Fiction for Young Adults.
Her essays and reportage have been featured in dozens of publications around the world, including: The New Yorker, Guardian, and New York Times. She writes a regular column for the BBC's 'Letter from Africa'.
Customers Also Bought These