You are previewing:

Gerald McBoing Boing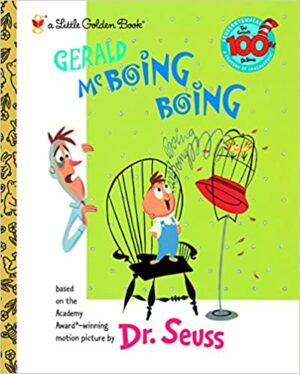 Gerald McBoing Boing
Gerald McBoing Boing
Age Range: 6+ years
They say it all started
when Gerald was two—
That's the age kids start talking—least, most of them do.
Well, when he started talking,
you know what he said?
He didn't talk words—
he went boing boing instead!
So goes the hilarious tale of a boy who was a little bit different—a tale that only Dr. Seuss could create. Based on the Academy Award-winning motion picture!
Theodor Seuss Geisel—aka Dr. Seuss—is one of the most beloved children's book authors of all time. From The Cat in the Hat to Oh, the Places You'll Go!, his iconic characters, stories, and art style have been a lasting influence on generations of children and adults. The books he wrote and illustrated under the name Dr. Seuss (and others that he wrote but did not illustrate, including some under the pseudonyms Theo. LeSieg and Rosetta Stone) have been translated into 30 languages. Hundreds of millions of copies have found their way into homes and hearts around the world. Dr. Seuss's long list of awards includes Caldecott Honors for McElligot's Pool, If I Ran the Zoo, and Bartholomew and the Oobleck; the Pulitzer Prize; and eight honorary doctorates. Works based on his original stories have won three Oscars, three Emmys, three Grammys, and a Peabody.