You are previewing:

Fossil Frenzy (Hardy Boys, The Secret Files #14)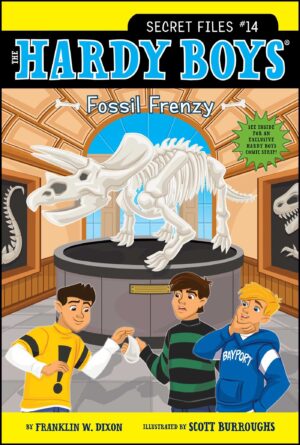 Fossil Frenzy (Hardy Boys, The Secret Files #14)
Fossil Frenzy (Hardy Boys, The Secret Files #14)
Age Range: 6 – 12 years
A missing dinosaur tooth makes for a massive investigation in this Hardy Brothers Secret Files Mystery.
Frank and Joe are excited for their field trip to the Bayport Museum of Natural History with their science club. Not only will they get to see some awesome dinosaur skeletons on display, but they also get to go on their very own fossil dig on the museum grounds.
At the dig, fellow classmate Tico uncovers an old dinosaur tooth—even though Tico's biggest competition in the club, Aisha, claims she found it first. And when Tico realizes his tooth is missing—a tooth that turns out to be immensely valuable—all signs point to Aisha. But is she really the culprit? It's up to Frank and Joe to dig deep for the answers in a case that is bigger than they ever imagined!
₵40.00
Out of stock
SKU:

BK4082
Categories: 9-12 years, Action & Adventure, Age Range, Ages 6-8 years, Author Origin, Book Sets, Children & Teens, Children Classics, Illustrated books, Literary Fiction, Literature & Fiction, Mysteries & Detective Stories, Teens, US/Canadian Authors, Young Reader
Tags: Fossil Frenzy (Hardy Boys, Franklin W Dixon, Hardy Boys, The Secret Files, The Secret Files #14)
Franklin W. Dixon is the pen name used by a variety of different authors (Leslie McFarlane, a Canadian author, being the first) who wrote The Hardy Boys novels for the Stratemeyer Syndicate (now owned by Simon & Schuster). This pseudonym was also used for the Ted Scott Flying Stories series.
Customers Also Bought These