You are previewing:

Essential Creative Arts Workbook – Kindergarten 2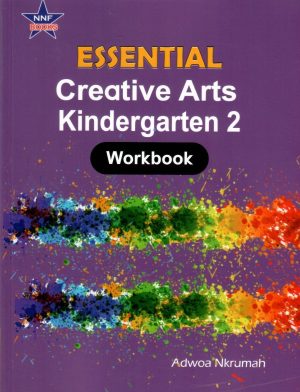 Essential Creative Arts Workbook – Kindergarten 2
Essential Creative Arts Workbook – Kindergarten 2
Suitable for children between 2 and 6 years
Essential Creative Arts Kindergarten 2 workbook meets the full requirements of the current New Standards-based curriculum by the National Council for Curriculum and Assessment (NaCCA).
The main objectives are to:
Awaken and develop the child's creative potentials.
Help the child to use wide range of materials, suitable tools and other resources to express ideas and communicate their feelings.
Help the child to appreciate visual elements, the beauty in the natural and man-made environment e.g. colour, form in space (shapes), texture, design, buildings, bridges, furniture, cars, etc.
The workbook is integrated with the themes in the curriculum. Art educators say it's never too early to introduce kids to art through books and projects. These workbooks are therefore the right choice to introduce kids to art.
Essential Creative Arts, your guarantee of success.
₵38.00
Available on backorder
SKU:

BK4947
Categories: Activities, Crafts & Games, Activity book, African Authors, Age Range, Ages 3-5 years, Alphabet, Author Origin, Baby - 2 years, Basic Concepts, Basic School Textbooks, Beginner Readers, Book Sets, Children & Teens, Early Childhood Education, Education & Teaching, English Language, Ghana, Illustrated books, Language Instruction, Languages, Nursery & Kindergarten Textbooks, Textbooks, Workbooks, Young Reader
Tags: Adwoa Nkrumah, Creative Arts Textbook, Creative Arts Textbooks, Essential Creative Arts Workbook, Kindergarten, NaCCA Approved, new curriculum, NNF, Textbook, Textbooks, Workbook
Customers Also Bought These