You are previewing:

DeathStalker Trilogy #1: Movie Menace (Hardy Boys All New Undercover Brothers #37)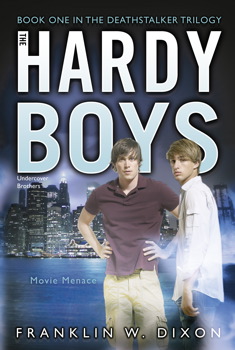 DeathStalker Trilogy #1: Movie Menace (Hardy Boys All New Undercover Brothers #37)
DeathStalker Trilogy #1: Movie Menace (Hardy Boys All New Undercover Brothers #37)
Age Range: 6 – 12 years
Frank and Joe Hardy are assigned to pose as extras on the set of the an upcoming teen movie, Deathstalker. The star, an ingenue named Anya, believes that someone is out to get her–and she's got proof. Someone tried to burn down her trailer! The Undercover Brothers need to get to the bottom of the arson, and other mayhem surrounding the filming of the hit comic book. The first book of the next exciting trilogy!
₵40.00
Out of stock
SKU:

BK4471
Categories: 9-12 years, Action & Adventure, Age Range, Ages 6-8 years, Author Origin, Book Sets, Children & Teens, Children Classics, Illustrated books, Literary Fiction, Literature & Fiction, Mysteries & Detective Stories, US/Canadian Authors, Young Reader
Tags: DeathStalker Trilogy, DeathStalker Trilogy #1: Movie Menace (Hardy Boys All New Undercover Brothers #37), Franklin W Dixon, Hardy Boys, Hardy Boys All New Undercover Brothers, Movie Menace
Franklin W. Dixon is the pen name used by a variety of different authors (Leslie McFarlane, a Canadian author, being the first) who wrote The Hardy Boys novels for the Stratemeyer Syndicate (now owned by Simon & Schuster). This pseudonym was also used for the Ted Scott Flying Stories series.
Customers Also Bought These