You are previewing:

Big Nate: Welcome to My World(Big Nate #13)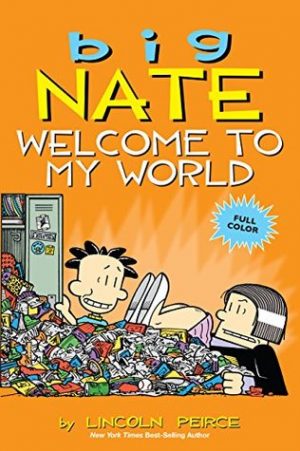 Big Nate: Welcome to My World(Big Nate #13)
Big Nate: Welcome to My World(Big Nate #13)
Age Range: 8 – 12 years
Soon to be an animated series with Paramount+ and Nickelodeon!
Join Big Nate and his classmates Gina, Artur, Francis, Jenny, and Teddy, as they navigate the halls of P.S. 38. One thing's for sure: Nate is definitely not the teacher's pet!
Nate Wright's life is just like his locker—it's full of surprises. The monstrous Mrs. Godfrey springs a pop quiz on Nate AND his grandparents. His horoscope predicts bad news for Nate's soccer career. And worst of all, he's forced to cut back on his beloved Cheez Doodles. It's enough to drive any kid crazy. Luckily, Nate's not just any kid. He's the ultimate sixth-grade survivor. When everything's falling apart, he finds a way to hold it together … but nobody said it would be easy. Welcome to the world of Big Nate!
Lincoln Peirce (pronounced "purse") is a cartoonist/writer and New York Times bestselling author of the hilarious Big Nate book series (www.bignatebooks.com), now published in twenty-five countries worldwide and available as ebooks and audiobooks and as an app, Big Nate: Comix by U! He is also the creator of the comic strip Big Nate. It appears in over three hundred U.S. newspapers and online daily at www.gocomics.com/bignate. Lincoln's boyhood idol was Charles Schulz of Peanuts fame, but his main inspiration for Big Nate has always been his own experience as a sixth grader. Just like Nate, Lincoln loves comics, ice hockey, and Cheez Doodles (and dislikes cats, figure skating, and egg salad). His Big Nate books have been featured on Good Morning America and in the Boston Globe, the Los Angeles Times, USA Today, and the Washington Post. He has also written for Cartoon Network and Nickelodeon. Lincoln lives with his wife and two children in Portland, Maine.
Customers Also Bought These