You are previewing:

Big Nate Fun Blaster: Cheezy Doodles, Crazy Comix, and Loads of Laughs! (Big Nate Activity Book)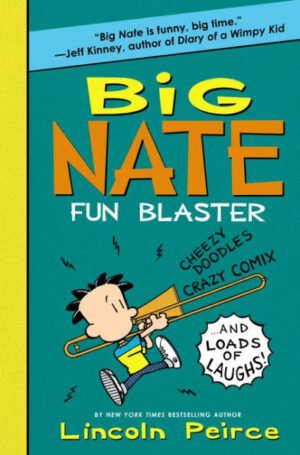 Big Nate Fun Blaster: Cheezy Doodles, Crazy Comix, and Loads of Laughs! (Big Nate Activity Book)
Big Nate Fun Blaster: Cheezy Doodles, Crazy Comix, and Loads of Laughs! (Big Nate Activity Book)
Age Range: 8 – 12 years
"Big Nate is funny, big time!"—Jeff Kinney, author of Diary of a Wimpy Kid
Big Nate Fun Blaster will rock your socks off! This second Big Nate themed activity book is bursting with awesome all new activities for Nate fans, including trivia quizzes, super sudoku puzzles, crackable codes, create-your-own comics, amazing mazes, poetry slams, ridiculous rhymes, marvelous Mad Libs, and much more.
Nate's New York Times bestselling world comes to life with a ton of black-and-white illustrations…some of which YOU get to create!
Big Nate Fun Blaster is a great addition to the bestselling collection of Big Nate books, sure to be enjoyed by all fans of Big Nate.
₵50.00
Out of stock
SKU:

BK3993
Categories: 9-12 years, Age Range, Ages 6-8 years, Children & Teens, Comics & Graphic Novels, Friendship, Growing Up & Facts of Life, Humorous Fiction, Illustrated books
Tags: Big Nate, Big Nate Fun Blaster, Lincoln Peirce
Lincoln Peirce (pronounced "purse") is a cartoonist/writer and New York Times bestselling author of the hilarious Big Nate book series (www.bignatebooks.com), now published in twenty-five countries worldwide and available as ebooks and audiobooks and as an app, Big Nate: Comix by U! He is also the creator of the comic strip Big Nate. It appears in over three hundred U.S. newspapers and online daily at www.gocomics.com/bignate. Lincoln's boyhood idol was Charles Schulz of Peanuts fame, but his main inspiration for Big Nate has always been his own experience as a sixth grader. Just like Nate, Lincoln loves comics, ice hockey, and Cheez Doodles (and dislikes cats, figure skating, and egg salad). His Big Nate books have been featured on Good Morning America and in the Boston Globe, the Los Angeles Times, USA Today, and the Washington Post. He has also written for Cartoon Network and Nickelodeon. Lincoln lives with his wife and two children in Portland, Maine.
Customers Also Bought These