You are previewing:

Art and the Power of Goodness: A Collection of John Agyekum Kufuor (Hardcover)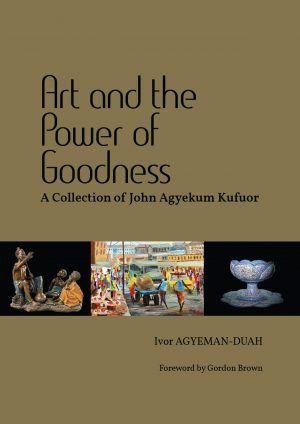 Art and the Power of Goodness: A Collection of John Agyekum Kufuor (Hardcover)
Art and the Power of Goodness: A Collection of John Agyekum Kufuor (Hardcover)
**Available from 16 June 2021
FOREWORD BY GORDON BROWN, Former Prime Minister of the United Kingdom
There is a strong correlation between art and power and in this book, Ivor Agyeman-Duah, a cultural and literary historian, looks at it from the art collection of the former President of Ghana – John Agyekum Kufuor.
From a matrilineal household in Kumasi that is connected to the visual and palace art in the ancient imperial Kingdom of Ashanti, Kufuor travelled the world from Oxford into the pantheon of great personages and power. Along the way, whether in villages in Ethiopia or among the Maasai in Kenya, across the Maghreb into Morocco, infatuation with the Persia classical period, Ottoman or Asia Minor's remains of modern day Turkey, northern Lebanon and parts of Greater Asia, some of these acquisitions came by way of gifts and purchases.
They reflect family life and belief, ancient trade relations and routes as well as patterns of contemporary geo-politics. It could be through Benin bronze sculpture with facial stratifications or of metal smelted Malian Islamic crusaders on horseback or a herdsman from a Sahel water well.
These works, seventy of which form the basis of this book with few external ones, include resistance art in the fashion of the 'empire fights back' against British West African colonial conflict engagements and resultant Independence.
₵200.00
Only 1 left in stock (can be backordered)
SKU:

BK4703
Categories: African Authors, African Biographies, African History, Arts & Photography, Author Origin, Biographies & Memoirs, Coffee Table Book, Crafts, Hobbies & Home, Ghana, Historical, History, International & World Politics, Lawyers & Judges, Leaders & Notable People, Nation building, Photo Books, Politics & Government, Politics & Social Sciences, Politics & State, Presidents & Heads of State, Professionals & Academics, West African History
Tags: Art and the Power of Goodness: A Collection of John Agyekum Kufuor, Diplomat, Ghana, Ghana History, Ivor Agyeman-Duah, J.A. Kufuor, John Agyekum Kufuor, New Patriotic Party, NPP, Politics
Ivor AGYEMAN-DUAH is a development specialist and former special advisor on international development cooperation to the Ghanaian President, John Agyekum Kufuor. He is a visiting Associate Professor at the University of Johannesburg and author and co-editor of, Pilgrims of the Night: Development Challenges and Opportunities in Africa, Africa – A Miner's Canary into the Twenty-First Century – Essays on Economic Governance and An Economic History of Ghana- Half a Century of Challenges and Progress.
Agyeman-Duah serves as Chair of the Advisory Board of the Heritage and Cultural Society of Africa and is a Member of the International Advisory Board of the University of Oxford's African Studies Centre.
He has served as visiting Research Fellow at the Exeter College of the University of Oxford and the Hutchins Institute at Harvard University. He holds graduate degrees from the London School of Economics, the School of Oriental and African Studies, London and the University of Wales.
Customers Also Bought These