You are previewing:

Around the World in Eighty Days (Macmillan Popular Classics)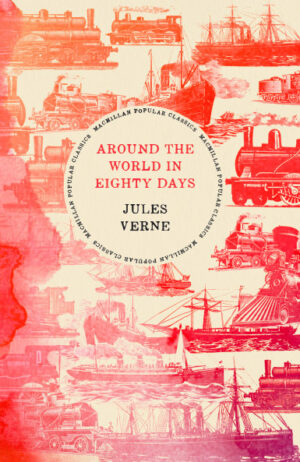 Around the World in Eighty Days (Macmillan Popular Classics)
Related Products
Customers Also Bought These
Around the World in Eighty Days (Macmillan Popular Classics)
Around the World in Eighty Days, one of his most popular books, was first serialized in late 1872 in a French newspaper. An instant success, the novel details the round-the-world adventures of the affluent Englishman Phileas Fogg who, accompanied by his French valet Passepartout, sets out on an impossible journey for a wager of £20,000. This groundbreaking novel has since been adapted numerous times for the theatre, television, radio and cinema.
₵40.00
Out of stock
SKU:

BK4277
Categories: Action & Adventure, Activities, Crafts & Games, Animals, Book Sets, Children & Teens, Children Classics, Classics, Contemporary Fiction, Education & Teaching, Family, Family Saga, Genre Fiction, Growing Up & Facts of Life, Historical Fiction, Illustrated books, Literary Fiction, Literature & Fiction, Teens, Young Adult Fiction
Tags: Around the World in Eighty Days, Jules Verne, Macmillan Popular Classics
Jules Verne (1828-1905) was a French author best known for his tales of adventure, including Twenty Thousand Leagues under the Sea, Journey to the Center of the Earth, and Around the World in Eighty Days. A true visionary, Verne foresaw the skyscraper, the submarine, and the airplane, among many other inventions, and is now regarded as one of the fathers of science fiction.
Jules Gabriel Verne was born in the French port city of Nantes on 8 February, 1828, to Pierre Verne, a successful lawyer, and his wife Sophie. Verne published Five Weeks in a Balloon in 1863, an immediate hit which was followed by Journey to the Centre of the Earth (1864), From the Earth to the Moon (1865), and his two most inspiring books, Twenty Thousand Leagues Under the Sea (1869) and Around the World in Eighty Days (1872). Verne died of old age and illness on March 24, 1905.
Customers Also Bought These