You are previewing:

A Whale of a Tale! All About Porpoises, Dolphins, and Whales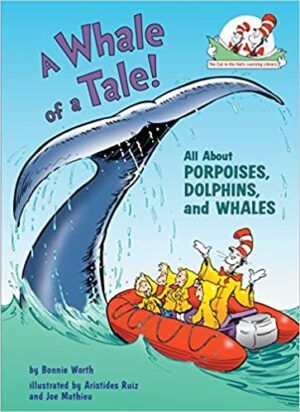 A Whale of a Tale! All About Porpoises, Dolphins, and Whales
A Whale of a Tale! All About Porpoises, Dolphins, and Whales
Age Range: 6+ years
Onboard a vessel that would make Jacques Cousteau green with envy, the Cat and Co. take to the high seas in search of whales, dolphins, and porpoises—those aquatic mammals known as cetaceans. While learning how cetaceans stay warm without hair, have teeth or baleen, swim in troops, spyhop, spin, breach, and see via ecolocation, kids are introduced to almost 20 different species—including sperm, right, humpback, and blue whales; Gulf, spectacled, and finless porpoise; and boto, common, hourglass, and bottlenose dolphins. A shipshape selection for summer reading!
"The Cat in the Hat's Learning Library shows young readers that books can be entertaining and educational at the same time. This is a wonderful series!" —Barbara Kiefer, Ph.D., Charlotte S. Huck Professor of Children's Literature, Ohio State University
₵40.00
In stock
SKU:

BK4048
Categories: Activities, Crafts & Games, Activity book, Age Range, Ages 6-8 years, Alphabet, Animals, Basic Concepts, Beginner Readers, Children & Teens, Children Classics, Early Childhood Education, Illustrated books, Promos & Bundles, Short Story Collections, Size & Shape
Tags: A Whale of a Tale!: All About Porpoises, and Whales, Bonnie Worth, Dolphins, Dr. Seuss
Theodor Seuss Geisel—aka Dr. Seuss—is one of the most beloved children's book authors of all time. From The Cat in the Hat to Oh, the Places You'll Go!, his iconic characters, stories, and art style have been a lasting influence on generations of children and adults. The books he wrote and illustrated under the name Dr. Seuss (and others that he wrote but did not illustrate, including some under the pseudonyms Theo. LeSieg and Rosetta Stone) have been translated into 30 languages. Hundreds of millions of copies have found their way into homes and hearts around the world. Dr. Seuss's long list of awards includes Caldecott Honors for McElligot's Pool, If I Ran the Zoo, and Bartholomew and the Oobleck; the Pulitzer Prize; and eight honorary doctorates. Works based on his original stories have won three Oscars, three Emmys, three Grammys, and a Peabody.