You are previewing:

A Developing Country's Health System Challenges: Addressing Ghana's 'NO BED SYNDROME'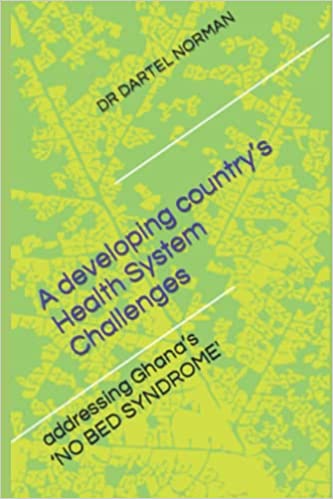 A Developing Country's Health System Challenges: Addressing Ghana's 'NO BED SYNDROME'
A Developing Country's Health System Challenges: Addressing Ghana's 'NO BED SYNDROME'
I am a Ghanaian trained doctor currently working in the United Kingdom's National Health Service. My experience as a health service provider, medical practitioner in the private and public health sectors, and as a patient in Ghana has exposed me to various challenges faced in health care provision in a developing country like Ghana.
There have been high-profile cases of patients losing their lives because they haven't been able to get emergency beds in Ghana. This phenomenon in Ghana has been called the 'no bed syndrome.
Developing countries have more challenges with health financing, human resources, health infrastructure, information technology, emergency systems, public health, and patient empowerment.
This Healthcare management and leadership book has taken four years to write and largely comprises my reflections on various challenges confronting Ghana's health sector vis a vis my experiences in the United Kingdom.
This Health book seeks to proffer solutions to Ghana's health system challenges and directly tackles the aged long problem of 'no bed syndrome' in Ghana.
₵50.00
Only 1 left in stock (can be backordered)
SKU:

BK6281
Categories: African Authors, Author Origin, Business Culture, Business, Finance & Law, Decision Making, Development Studies, Ghana, Human Resources Management, Leadership, Management & Leadership, Nation building, Organizational Change, Physicians, Politics & Social Sciences, Science & Math, Systems & Planning
Tags: A Developing Country's Health System Challenges: Addressing Ghana's 'NO BED SYNDROME', Amazon Kindle Direct Publishing, Dartel Norman, Ghana, Healthcare, Hospital, Medical
The author is a Specialist Geriatrician currently working at the Harrogate District Hospital in the United Kingdom's (UK) National Health Service (NHS). He has also worked as a Consultant Geriatrician.
He holds a Bachelor of Science in Human Biology from the Kwame Nkrumah University of Science and Technology, Kumasi-Ghana. He graduated as a medical doctor in 2007 from the same university.
He passed his Membership exam in Internal Medicine at the West African College of Physicians in 2013 and was subsequently admitted as a Fellow in General Internal Medicine in 2017.
He holds an International Fellowship in Geriatric Medicine from the Royal College of Physicians, London, and a professional diploma in UK medical practice from the Liverpool school of tropical medicine.
He also holds an advanced certificate in clinical education from the Royal College of Physicians and Surgeons of Glasgow as well as a Specialty Certificate in Geriatrics from the Joint Royal Colleges of the United Kingdom and the British Geriatric Society. He has been working in the Geriatrics Department at the Harrogate District Hospital since 2017.
He has publications on the elderly in Ghana and has also published on his experience working in the NHS.
He has worked in both the private and public health sectors in Ghana and has previously run his own health facilities.
Continuous improvement in healthcare delivery is a passion of his.
Customers Also Bought These