You are previewing:

A Charge to Keep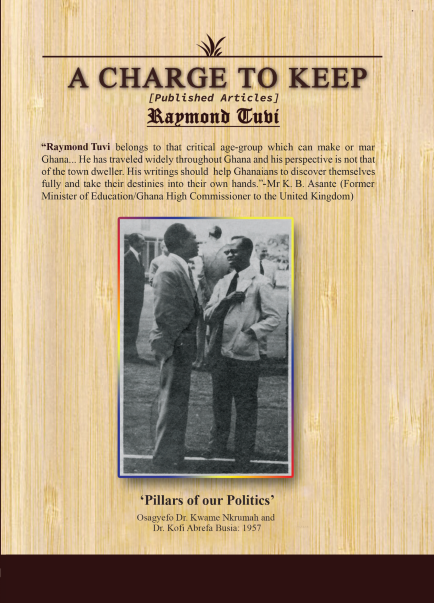 A Charge to Keep
A Charge to Keep
A Charge to Keep – a collection of his articles published since 1996 – is Raymond Tuvi's third book. Bukom, the first article, was featured in the "My Town" segment of the July–September 1996 edition of the BBC Focus on Africa magazine.
Faith, Individual Character and National Development, is the composite theme that runs through the over 50 highly-readable essays. The Foreword is by Ambassador K.B. Asante, former Ghana High Commissioner to the United Kingdom, who served as Minister of Education, and Trade and Industry.
Osagyefo Dr. Kwame Nkrumah, Ghana's first President and preeminent champion of the total liberation of Africa's longtime Executive Secretary, Mr. K.B. Asante, as he's popularly known to a Ghanaian populace that dotes on him as Elder Statesman, and probably the "Last of the Great Ghanaian Freedom Fighters", writes:
"The book is a welcome addition to the growing number of books written by Ghanaians who should thereby be encouraged to read more widely. The truth is that we do not read much and this is shown by the narrowness of mind many of us exhibit on national issues. By this book, Raymond Tuvi is telling us that we have one less excuse for not having any idea about what we should know."
₵120.00
In stock (can be backordered)
SKU:

BK6271
Categories: African Authors, Author Origin, Essays & Correspondence, Ghana, Literature & Fiction, Nation building, Politics & Government, Politics & Social Sciences, Sociology, Travel
Tags: A Charge to Keep, Essays, Raymond Tuvi, Reflections, Travels
Raymond Tuvi was educated at the Morning Star School, Accra, St. Augustine's College, Cape Coast and the University of Ghana, Legon. During his high school days, Raymond won several episodes of the popular national radio quiz programme "What-Do-You-Know?" and the television equivalent, "Best Brain", winning the 1985 KLM Royal Dutch Airline-sponsored competition as the youngest-ever champion in the history of the competition, with a trip to Britain as his prize.
After graduation from Legon, Raymond taught at the Achimota Secondary School. After Achimota, he founded Youth Agenda, an NGO that has carried out a number development programmes in the KorleWokon area of Accra-Central.
Tuvi has written for the BBC, worked as Media Consultant for UNICEF Ghana and regularly contributes feature articles to the Daily Graphic. His publications include Ananse Goes to Britain, Uncle Spider's First Law, and The Prisoner of Korle Won-Ko.
In July 2017, Tuvi was honoured by the University of Ghana Basic School as Special Guest of Honour at its graduation where his book, Uncle Spider's First Law, was performed as a play by the graduating kindergarten class.