You are previewing:

Zanne Fo Kɔkɔre (Dagaare)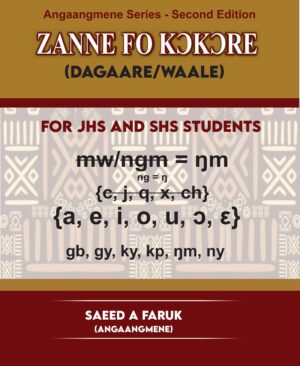 Zanne Fo Kɔkɔre (Dagaare)
Related Products
Customers Also Bought These
Zanne Fo Kɔkɔre (Dagaare)
ZANNE FO KƆKƆRE waa la gane n ba Saeed A. Faruk naŋ sɛge ka ka o meŋ soŋ bibiiri a Dagaare/Waale zannoo a sakue poɔ. A gane kɔlage la sɛgebie, yelbipeelɛ, yelbie nyaabo, yelbie gaŋgyere, yelŋmaa, yelgbɔge, gane sɛgebo, senselɛ, naaloŋ, kyiire, dannoŋ, yaabaa, bibiiri deɛnɛɛ, kultaa ne wɛltaa ane ataa. Ƞmaa lɛ, a gane waa ŋa ɔre-kunkuni, ka fo maŋ wele sɛre kyɛ nyɛ moɔma.
A gane ŋa soma la a ko JHS, SHS, Kolaagyi ane Karemamine ane neɛzaa naŋ boɔra ka Dagaare/Waale kɔkɔre zannoo do saa. O la soma la a ko noba naŋ zanna ka ba wa leɛ karemamine.  Yeli naŋ vɛŋ ka ZANNE FO KƆKƆRE gane ŋa de zu o taaba zuŋ la N ba Saeed naŋ kyaane a yebizuri mine ne naasaale. A dori kaŋa meŋ zaa baaraaŋ, meŋa nyonnoo soorebie maŋ be la be.
₵24.00
In stock (can be backordered)
SKU:

BK4437
Categories: African Authors, Author Origin, Dagaare, Drama & Plays, Fairy Tales & Folklore, Ghana, JHS Textbooks, Language Instruction, Languages, Literature & Fiction, SHS Textbooks, Textbooks
Tags: Dagaare, Dagaare books, Saeed A. Faruk, ZANNE FO KƆKƆRE
N ba Saeed A. Faruk waa la karema naŋ kanne sakuuribiiri awo yuomo pie ne ayoɔbe ŋaa. O zanne la bibiiri wuluu a Nasrat Jahan Ahmadiyya Teacher Training College poɔ, saŋa na o naŋ wa baare sekundere sakuuri. O naŋ wa baare a kolaagye, o kanne la bibiiri Kandeh Islamic Primary School naŋ be a Wa East District ane Fallahia Islamic JHS sɛre ka o de gaa University of Education, Winneba a te zanne Dagaare, a deɛ digirii ba naŋ boɔla Bachelor of Education (B.Ed In Ghanaian Language (Dagaare), Second Class Honours – Upper Division).
N ba Saeed la wa kanne la bibiiri belaaŋ sɛre ka o la gaa te kanne a deɛ o digiriŋ ayi soba Naasaale Kɔkɔre poɔ ka ba boɔla Master of Arts in English. O kanne la Untrained Teachers Diploma in Basic Education (UTDBE) karembiiri naŋ da be Mampong Technical College of Education poɔ yuoni gbuli. Faruk kanne la biiri Jamiat Al-Hidayat Al-Islamiyat Islamic Girls SHS poɔ yuoni-gbuli sɛre ka ba leɛ iri o gaane Northern Star Senior High School.
Faruk ne naasaalba nimimaaroŋ zɔreba tonnoɔre ŋ aba naŋ boɔla Peace Corps Ghana meŋ la tona la. O maŋ wulo ba la Waale/Dagaare yeluu ka banaŋ wa yi ba yiri a na wa te paaloŋ, sɛre baŋ wa.
Customers Also Bought These