You are previewing:

Wreck and Roll (Hardy Boys Mysteries #185)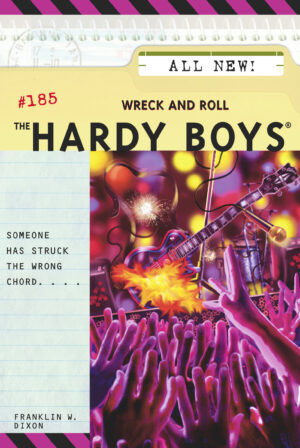 Wreck and Roll (Hardy Boys Mysteries #185)
Wreck and Roll (Hardy Boys Mysteries #185)
Age Range: 8 – 12 years
WITH THIS BAND, MUSIC AND MAYHEM GO HAND IN HAND.
Vette Smash, one of the hottest new rock bands in Bayport, is playing a gig — and thanks to their friend Phil's backstage passes, Frank and Joe are in the center of the action! But within minutes of meeting the band members, the stage lights short-circuit and a threatening message is left on the band's answering machine. Soon it's clear that someone is trying to crash Vette Smash.
Frank and Joe start hunting down suspects. Is it Vette Smash's rival band, Green Machine? Could it be the jealous agents competing for the band's attention? Or is a member of Vette Smash behind the mess? One thing's certain: Time's running out. The band's threatening to break up. Can the Hardys root out the culprit before the final number?
₵40.00
Out of stock
SKU:

BK4461
Categories: 9-12 years, Action & Adventure, Age Range, Ages 6-8 years, Author Origin, Book Sets, Children & Teens, Children Classics, Illustrated books, Literary Fiction, Literature & Fiction, Mysteries & Detective Stories, Teens, US/Canadian Authors, Young Reader
Tags: Franklin W Dixon, Hardy Boys, Wreck and Roll, Wreck and Roll (Hardy Boys Mysteries #185)
Franklin W. Dixon is the pen name used by a variety of different authors (Leslie McFarlane, a Canadian author, being the first) who wrote The Hardy Boys novels for the Stratemeyer Syndicate (now owned by Simon & Schuster). This pseudonym was also used for the Ted Scott Flying Stories series.
Customers Also Bought These