You are previewing:

When the Sun Sets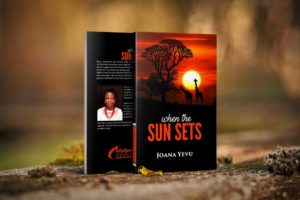 When the Sun Sets
When the Sun Sets
Akuvi, Ewusiwaa and Gloria meet in high school and their lives become intertwined in ways they never imagined.
Akuvi's is a generous and benevolent family. Ewusiwaa's is a family that's falling apart. Gloria's is not the picture perfect family they portray.
How does fate make the direct and indirect relationship between these families play out, and what's in store for them as the sun sets?
Joana Yevu lives in Accra, Ghana, with her family. She holds a BA (Hons) Degree in Sociology, with Political Science from the University of Ghana, Legon.
Joana mostly writes for young adults. She runs a blog as well (www.joanayevu.wordpress.com) to keep writing, and also to let adults have a feel of what goes on in her world of fantasy.
When Joana is not writing, she either reads novels, watches movies, or surfs the internet.