You are previewing:

Tunnel of Secrets (Hardy Boys #10)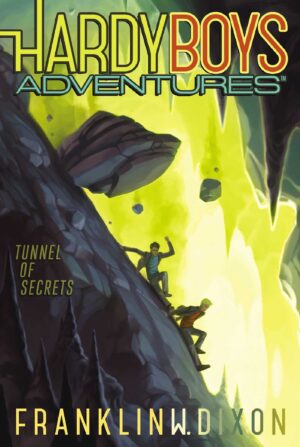 Tunnel of Secrets (Hardy Boys #10)
Tunnel of Secrets (Hardy Boys #10)
Age Range: 8 – 12 years
When Frank and Joe set out to explore caves and tunnels, they dig themselves into some dark and dangerous trouble in this Hardy Boys adventure.
When a sinkhole opens up and swallows one of Bayport's historic statues, Frank and Joe suspect something—or someone—shady at play. They jump at the chance to investigate; Joe as a member of an urban exploration club, and Frank as photographer for the school paper.
But in the thick of their search, the boys stumble upon an entire underground city that's been abandoned for years. Now the city is home to a cultish band of criminals who plan to take over Bayport. Frank and Joe are determined to shut down the crooks, but after being barreled down by a boulder and nearly squashed by a runaway train, they have to wonder: are they in over their heads?
₵40.00
Out of stock
SKU:

BK3976
Categories: 9-12 years, Action & Adventure, Age Range, Ages 6-8 years, Author Origin, Book Sets, Children & Teens, Children Classics, Illustrated books, Literary Fiction, Literature & Fiction, Mysteries & Detective Stories, Teens, US/Canadian Authors, Young Reader
Tags: Franklin W Dixon, Hardy Boys, Hardy Boys Adventures, Tunnel of Secrets
Franklin W. Dixon is the pen name used by a variety of different authors (Leslie McFarlane, a Canadian author, being the first) who wrote The Hardy Boys novels for the Stratemeyer Syndicate (now owned by Simon & Schuster). This pseudonym was also used for the Ted Scott Flying Stories series.