You are previewing:

The Sins of the Father (The Clifton Chronicles #2)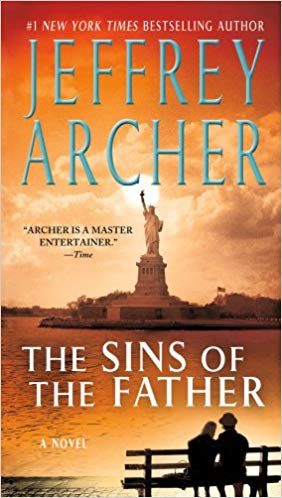 The Sins of the Father (The Clifton Chronicles #2)
The Sins of the Father (The Clifton Chronicles #2)
On the heels of the international bestseller Only Time Will Tell, Jeffrey Archer picks up the sweeping story of the Clifton Chronicles.
Only days before Britain declares war on Germany, Harry Clifton, hoping to escape the consequences of long-buried family secrets, and forced to accept that his desire to marry Emma Barrington will never be fulfilled, has joined the Merchant Navy.
But his ship is sunk in the Atlantic by a German U-boat, drowning almost the entire crew. An American cruise liner, the SS Kansas Star, rescues a handful of sailors, among them Harry and the third officer, an American named Tom Bradshaw.  When Bradshaw dies in the night, Harry seizes on the chance to escape his tangled past and assumes his identity.
But on landing in America, he quickly learns the mistake he has made, when he discovers what is awaiting Bradshaw in New York.  Without any way of proving his true identity, Harry Clifton is now chained to a past that could be far worse than the one he had hoped to escape.
Jeffrey Archer has topped the bestseller lists around the world, and is the only author ever to have been a number one bestseller in fiction (nineteen times), short stories (four times) and non-fiction (The Prison Diaries). He was born in London, and brought up in the West Country.
He gained a Blue in Athletics at Oxford, was President of the University Athletics Club, and went on to run the 100 yards in 9.6 seconds for Great Britain in 1966. Jeffrey has served five years in the House of Commons as a Member of Parliament, and twenty-six years as a Member of the House of Lords.
He has written 22 novels, 7 sets of short stories, 3 prison diaries, 3 plays (all of which have been performed in London's West End) and a gospel. His first novel, Not a Penny More, Not a Penny Less was sold to 17 countries within a year. It was also made into a successful serial for BBC Radio 4, and was later televised in 1990 by the BBC. He won the Prix Relay du Roman d'Évasion, a prize that rewards a novel in which readers can 'escape from everyday life', for his novel Paths of Glory, and the Prix Polar International Prize for the best international thriller of the year, for his novel A Prisoner of Birth.
The Clifton Chronicles, a series of seven novels published between 2011-2017 topped the bestseller lists around the world. His latest book of short stories, TELL TALE, is published in paperback in April 2018, and his next novel, HEADS YOU WIN, will be published in November.
Jeffrey is also an amateur auctioneer, conducting around 20 charity auctions a year. He has been married to Dame Mary Archer, Chairman of the Science Museum Group, for 52 years.