You are previewing:

The Secret of the Soldier's Gold (Hardy Boys Mysteries #182)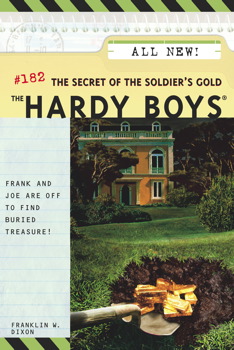 The Secret of the Soldier's Gold (Hardy Boys Mysteries #182)
The Secret of the Soldier's Gold (Hardy Boys Mysteries #182)
Age Range: 8 – 12 years
The police in Portugal have asked Fenton Hardy to come help them solve a crime, and Frank and Joe are tagging along. Before they even get on the plane, they're given a mission of their own: Mrs. Rilke, a friend of the grandmother of one of Frank and Joe's classmates, is sending the boys on a treasure hunt!
After World War II, a defecting German soldier buried a fortune in gold bars in Mrs. Rilke's childhood backyard. She asks the Hardys to recover the treasure so she can donate it to charity. The problem is that another woman now knows about the gold, and she and her sons are looking for it too. Can Frank and Joe find the loot before it falls into the wrong hands?
₵40.00
Out of stock
SKU:

BK4460
Categories: 9-12 years, Action & Adventure, Age Range, Ages 6-8 years, Author Origin, Book Sets, Children & Teens, Children Classics, Illustrated books, Literary Fiction, Literature & Fiction, Mysteries & Detective Stories, Teens, US/Canadian Authors, Young Reader
Tags: Franklin W Dixon, Hardy Boys, The Secret of the Soldier's Gold, The Secret of the Soldier's Gold (Hardy Boys Mysteries #182)
Franklin W. Dixon is the pen name used by a variety of different authors (Leslie McFarlane, a Canadian author, being the first) who wrote The Hardy Boys novels for the Stratemeyer Syndicate (now owned by Simon & Schuster). This pseudonym was also used for the Ted Scott Flying Stories series.
Customers Also Bought These