You are previewing:

The Raven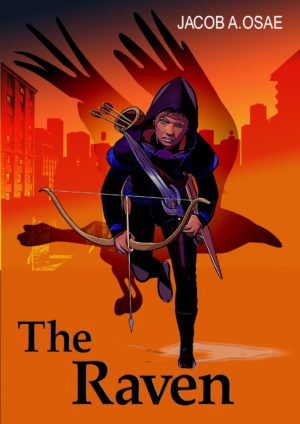 Useful Reviews
The Raven
When the king of Mahara suffers a fatal death at the hands an evil and cruel goddess, the kingdom of Mahara is suddenly plunged into palpable distress, darkness and mayhem with no hope of salvation or absolution. In the incumbent darkness, a young teen, Raya Nkube of the Rhodesu Clan, wins the heart of the supreme god Omari, due to a selfless act. Raya meets her untimely demise, but in her death she becomes something…on whom the survival of Mahara will depend.
Meanwhile, on a parallel earth, on his quest to find her wife who had been presumed dead for years, geological engineer Tony Sampah opens up a portal into the space-time continuum. But the moment the portal is opened, something goes wrong…
₵40.00
Out of stock
SKU:

BK3250
Categories: African Authors, Author Origin, Fantasy & Magic, Ghana, Literary Fiction, Literature & Fiction, Science Fiction & Fantasy, Young Adult Fiction
Tags: Africa, Fantasy, Fantasy and Magic, Ghana, Jacob Amanor Osae, Science Fiction, Suyi Davies Okungbowa
Jacob Amanor Osae was born in Ghana and attended the University of Ghana where he studied Physics and learnt Creative Writing. He is a Poet, a Screen writer and a Sci-fi & Fantasy writer. He studied with the Writers Project of Ghana Creative Writing Cafe and has published two books: OAKS OF DEFINITION and A WALKING RAINBOW. He is also the founder and member of TEAM VOLVOX creative writing group on the University of Ghana Campus.
His short story titled Iron Boy was published in the LARABANGA: SHORT STORIES FROM THE SAVANNAH anthology 2019 by the Ama Ata Aidoo Center for Creative Writing, of the AUCC, Accra. He also has numerous articles written and published on ugfile.com – a social media platform on the University of Ghana campus.