You are previewing:

The Mummy's Curse (Hardy Boys All New Undercover Brothers #13)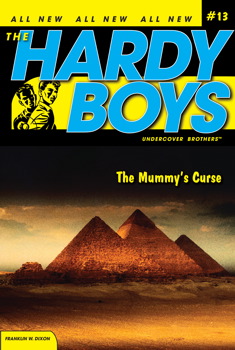 The Mummy's Curse (Hardy Boys All New Undercover Brothers #13)
The Mummy's Curse (Hardy Boys All New Undercover Brothers #13)
Age Range: 6 – 12 years
ATAC BRIEFING FOR AGENTS FRANK AND JOE HARDY
MISSION:
Good thing you're in Egypt, because we have a mystery on our hands. A man has been murdered, possibly over a map to a precious golden mummy. Could there be a curse surrounding the ancient mummy and his treasure?
LOCATION:
Cairo, Egypt, and the surrounding area.
POTENTIAL VICTIMS:
Anyone in pursuit of the treasure.
SUSPECTS:
Several people on an expedition are suspects.
Find them before they find the mummy and the money.
THIS MISSION REQUIRES YOUR IMMEDIATE ATTENTION.
THIS MESSAGE WILL BE ERASED IN FIVE SECONDS.
₵40.00
Out of stock
SKU:

BK4473
Categories: 9-12 years, Action & Adventure, Age Range, Ages 6-8 years, Author Origin, Book Sets, Children & Teens, Children Classics, Illustrated books, Literary Fiction, Literature & Fiction, Mysteries & Detective Stories, US/Canadian Authors, Young Reader
Tags: Franklin W Dixon, Hardy Boys, Hardy Boys All New Undercover Brothers, The Mummy's Curse, The Mummy's Curse (Hardy Boys All New Undercover Brothers #13)
Franklin W. Dixon is the pen name used by a variety of different authors (Leslie McFarlane, a Canadian author, being the first) who wrote The Hardy Boys novels for the Stratemeyer Syndicate (now owned by Simon & Schuster). This pseudonym was also used for the Ted Scott Flying Stories series.
Customers Also Bought These