You are previewing:

The Cockcrow: Short Stories, Drama and Poems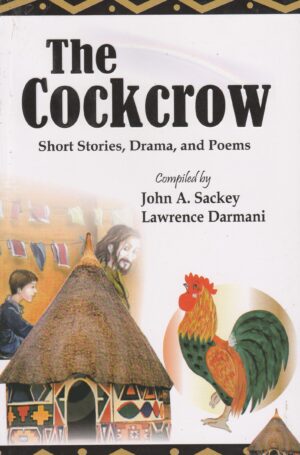 The Cockcrow: Short Stories, Drama and Poems
The Cockcrow: Short Stories, Drama and Poems
Great care has been taken in putting together this collection of short stories, poems, and a play for Junior High Schools in Ghana.
Each story, poem or play has been selected for a purpose, which is to educate and entertain. Readers will find in them characters, events and situations they can relate to, even as they learn about types of literature and their modes of appeal.
Above all, this collection is aimed at encouraging and sustaining the habit of reading from the Junior High School onward. In each story, poem or play, you will hear the cock crow to inform, warn and entertain in words imagined by the writers.
₵18.00
Available on backorder
SKU:

BK4456
Categories: 9-12 years, Activities, Crafts & Games, Activity book, African Authors, Age Range, Author Origin, Basic Concepts, Beginner Readers, Book Sets, Children & Teens, Early Childhood Education, Education & Teaching, English Language, Ghana, Illustrated books, JHS Textbooks, Language Instruction, Languages, Teens, Textbooks, Workbooks, Young Reader
Tags: Drama and Poems, English Textbook, English Textbooks, JHS, John A. Sackey, Junior High School, Lawrence Darmani, Step Publishers, Textbook, Textbooks, The Cockcrow, The Cockcrow: Short Stories, Workbook
Dr. John A. Sackey is a former lecturer in English at the University of Cape Coast and former Principal of Wisconsin International University College, Accra. He is currently Head of English Department, Central University College, Accra, and the author of English for Senior High Schools, and other books.
Lawrence Darmani is a Ghanaian novelist and publisher. His first novel, Grief Child, won the Commonwealth Writers' Prize as best first book from Africa. He is editor of Step magazine, and CEO of Step Publishers. He also writes devotional articles for Our Daily Bread, which touches the lives of many Christians around the world.
He is married and lives in Accra with his family. Lawrence enjoys church life and volunteers at other Christian ministry activities. He says that he derives writing ideas "out of personal experiences, reading, testimonies, and observing the world around me."
Customers Also Bought These