You are previewing:

The Canoe's Story (Hardcover)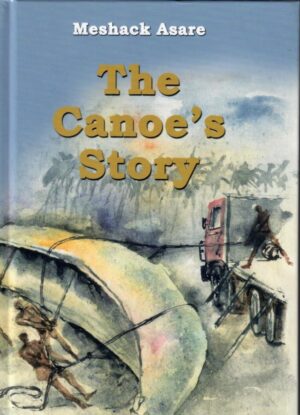 The Canoe's Story (Hardcover)
Related Products
Customers Also Bought These
The Canoe's Story (Hardcover)
Age Range: 6 – 12 years
"But I did not have time yet to stare and wonder. The men wrestled me out of the machine and pushed and towed me across the sand to the shade of coconut palms. The moment I touched the ground, I heard a chorus of voices saying, 'Akwaaba. Welcome to the coast!' It was from the group of canoes and I was rather surprised that they spoke my language. But needed not be surprised. I had forgotten that they all came from the same forest in the hitherland where I too had come from."
Written by Ghanaian author Meshack Asare, The Canoe's Story is a children's book about a tree's journey from the forest to becoming a canoe sailing the ocean. Told from the tree's perspective, this richly illustrated story, portrays the strong ties between man and nature.
₵55.00
Only 2 left in stock (can be backordered)
SKU:

BK3759
Categories: 9-12 years, Action & Adventure, African Authors, Age Range, Ages 6-8 years, Author Origin, Award Winners, Children & Teens, Environment, Fairy Tales & Folklore, Ghana, Illustrated books, Literature & Fiction, Science & Math
Tags: climate change, Environment, Meshack Asare, The Canoe's Story (Hardcover), Trees
Meshack Asare is one of Africa's top children's writers and illustrators, and has won numerous awards including being the 2015 recipient of the NSK Neustadt Prize for Children's Literature, he is the first African to win the award. In 1982 he won The Noma Award for Publishing in Africa, and in 1999 the Toyota/Children's Literature Foundation Best Picture Story Book Illustrator's award and the Unesco First Prize for Children and Young People's Literature in the Service of Tolerance.
Meshack Asare, born 1945 in Ghana, studied Fine Arts at the College of Art in Kumasi and taught in Ghana for 12 years between 1967 and 1979. During that period, he took an extension course in Educational Psychology at the University of Wisconsin.
Customers Also Bought These