You are previewing:

The Apocalypse Watch (Hardcover)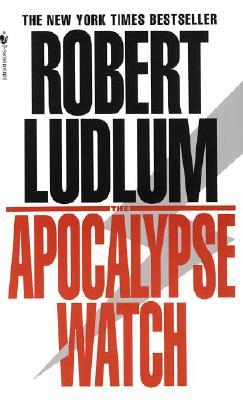 The Apocalypse Watch (Hardcover)
The Apocalypse Watch (Hardcover)
American agent Harry Latham has penetrated the fortresslike mountain hideaway of the Brotherhood of the Watch, a neo-Nazi organization that was born in the days after the fall of the Third Reich. After three years in deep cover, and on the eve of his most spectacular success, Harry Latham has disappeared.

Drew Latham, Special Officer for Consular Operations in Paris, is frantic to discover his older brother's fate. But when he receives the sudden good news that Harry has surfaced, gut-twisting doubts arise. Has Harry's cover been blown? And if so, why has the Brotherhood of the Watch let him live?

For Harry Latham has emerged with an explosive list: the secret supporters of the movement, among them some of the highest-ranking officials in the United States and its allies, names synonymous with honorable service to their nations. It is a document that could topple governments — but is it legitimate? Can Drew Latham trust his own brother? The search for the truth about Harry — and the growing Nazi threat — will plunge Drew into a labyrinth of deceit and death. And whoever gets out alive holds the fate of the free world in his hands.
₵40.00
Out of stock
SKU:

BK2111
Categories: Assassinations, Conspiracies, Espionage, Literature & Fiction, Mystery, Thriller & Suspense, Political, Spies & Politics, Suspense, Terrorism
Tags: Espionage, Robert Ludlum, Thriller
Robert Ludlum was the author of twenty-seven novels, each one a New York Times bestseller. There are more than 210 million of his books in print, and they have been translated into thirty-two languages. He is the author of The Scarlatti Inheritance, The Chancellor Manuscript, and the Jason Bourne series--The Bourne Identity, The Bourne Supremacy, and The Bourne Ultimatum--among others. Mr. Ludlum passed away in March, 2001. Ludlum also published books under the pseudonyms Jonathan Ryder and Michael Shepherd.
Some of Ludlum's novels have been made into films and mini-series, including The Osterman Weekend, The Holcroft Covenant, The Apocalypse Watch, The Bourne Identity, The Bourne Supremacy and The Bourne Ultimatum. A non-Ludlum book supposedly inspired by his unused notes, Covert One: The Hades Factor, has also been made into a mini-series. The Bourne movies, starring Matt Damon in the title role, have been commercially and critically successful (The Bourne Ultimatum won three Academy Awards in 2008), although the story lines depart significantly from the source material.