You are previewing:

Strangers on a Train (Nancy Drew Diaries #2)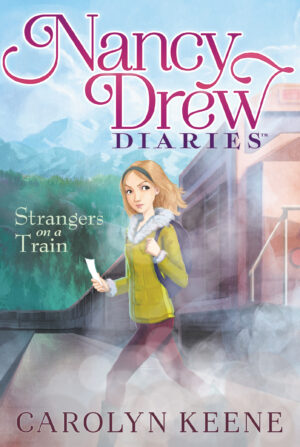 Strangers on a Train (Nancy Drew Diaries #2)
Strangers on a Train (Nancy Drew Diaries #2)
Age Range: 8 – 12 years
Nancy and her friends take their detective skills on an Alaskan adventure in this second book of the Nancy Drew Diaries, a fresh approach to a classic series.
Nancy's Alaskan adventure continues as she, Bess, and George disembark the mystery-plagued Arctic Star cruise ship and explore the grand sites of the forty-ninth state: Skagway; the Yukon territory, and Denali National Park. It's spectacular scenery, but things start to go wrong almost immediately, leading Nancy to believe that whoever was behind the unsolved mayhem aboard the ship has followed them onto dry land. The girl detectives had better watch their steps—they're on uncharted and unknown territory!
₵35.00
Out of stock
SKU:

BK4802
Categories: 9-12 years, Action & Adventure, Age Range, Ages 6-8 years, Author Origin, Book Sets, Children & Teens, Children Classics, Illustrated books, Literary Fiction, Literature & Fiction, Mysteries & Detective Stories, Teens, US/Canadian Authors, Young Reader
Tags: Carolyn Keene, Nancy Drew, Nancy Drew Diaries, Strangers on a Train
Carolyn Keene is a pen name used by a variety of authors for the classic Nancy Drew Mystery series. The first author to use the pseudonym was Mildred Wirt Benson, who wrote 23 of the original 30 books. Other writers who have adapted the "Carolyn Keene" moniker include Leslie McFarlane, James Duncan Lawrence, Walter Karig, and Nancy Axelrod.
Customers Also Bought These