You are previewing:

Real Fake (Nancy Drew Super Mystery, #3)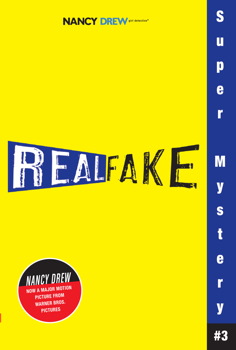 Real Fake (Nancy Drew Super Mystery, #3)
Real Fake (Nancy Drew Super Mystery, #3)
Age Range: 8 – 12 years
When Bess and George dared me to try out for the new reality TV show Mystery Solved!, I never thought I'd actually get picked. But the next thing I knew, I was off to Paris for the shoot.
I was all set for a fun-filled adventure in the City of Lights…until I started getting creepy e-mails from a strange address. It looks like the real mystery is going on behind the scenes.
The other contestants are so eager to win, I wonder how far they're willing to go. There's Chen, a video game designer and master hacker; Tyler, a businessman who will do anything to make a buck; Wendy, an aspiring actress who seems smarter than she's letting on; and that's only the beginning.
I just hope I can separate fact from fiction and avoid these obnoxious cameras long enough to figure out what's up.
₵35.00
Out of stock
SKU:

BK4827
Categories: 9-12 years, Action & Adventure, Age Range, Ages 6-8 years, Author Origin, Book Sets, Children & Teens, Children Classics, Illustrated books, Literary Fiction, Literature & Fiction, Mysteries & Detective Stories, Teens, US/Canadian Authors, Young Reader
Tags: Carolyn Keene, Nancy Drew, Real Fake (Nancy Drew Super Mystery #3)
Carolyn Keene is a pen name used by a variety of authors for the classic Nancy Drew Mystery series. The first author to use the pseudonym was Mildred Wirt Benson, who wrote 23 of the original 30 books. Other writers who have adapted the "Carolyn Keene" moniker include Leslie McFarlane, James Duncan Lawrence, Walter Karig, and Nancy Axelrod.
Customers Also Bought These