You are previewing:

…Power to the People: Reflections on Retrogressive Politics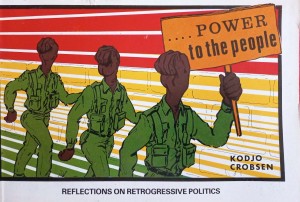 …Power to the People: Reflections on Retrogressive Politics
| | |
| --- | --- |
| Weight | 0.450 kg |
| ISBN | 978-0907108818 |
| Pages | 144 |
| Year Published | 1984 |
| Format | Paperback |
| Author | Kodjo Crobsen |
…Power to the People: Reflections on Retrogressive Politics
Published in 1984…Power to the People is a doctor's medicine for Ghana's ills. The pill is occasionally bitter, but is coated with a generous layer of therapeutic laughter, to help its message slide gently into the appropriate organs of the national digestive system.
Presented in the form of prose, poetry and cartoons, the first part of the book, subtitled The Past, covers the Nkrumah, Kotoka, Afrifa & Ankrah, Busia, Acheampong & Akuffo, Rawlings 1979 and Limann eras. The second part, subtitled The Present, covers the first three years of the second coming of Rawlings.
In a satirical treatment of our history over almost 30 years, this book sheds a great light onto the paths that Ghana traversed in those heady years, in a form that is easy to read, reflect on and learn.
In the author's own words, "in recording these…my hope is that others would be induced to ponder over and question loudly some of those short-comings, lapses and omissions in our national character and situation which are stifling our growth and retarding the country's progress. If our questions get loud and irritating enough to cause discomfiture in our policy makers, then the reader wouldn't have been bored for nothing."
₵65.00
In stock (can be backordered)
SKU:

BK5913
Categories: African Authors, African Biographies, African History, Author Origin, Biographies & Memoirs, Comic Strips, Comics & Graphic Novels, Ghana, Historical, Historical Study & Educational Resources, History, History & Theory of Politics, Humour & Entertainment, Leaders & Notable People, Military, Poetry, Politicians, Politics & Government, Politics & Social Sciences, Presidents & Heads of State, Satire, West African History
Tags: ...Power to the People: Reflections on Retrogressive Politics, AFRC, Afrifa, Akuffo, Ankrah, Baba Jallow, Caricatures and cartoons, Comics, Ghana, Government, Hilla Limann, humor, Humour, JJ Rawlings, Kodjo Crobsen, Kotoka, Kutu Acheampong, Kwame Nkrumah, Pictorial Ghanaian wit, PNDC, Poetry, Politics, Rawlings, The Kwame Nkrumah Cartoons: A Visual History of the Times
| | |
| --- | --- |
| Weight | 0.450 kg |
| ISBN | 978-0907108818 |
| Pages | 144 |
| Year Published | 1984 |
| Format | Paperback |
| Author | Kodjo Crobsen |
Kodjo Crobsen was born on 15th April 1940 in the Eastern Region of Ghana. He was educated at Mfantsipim, Cape Coast and a Central European medical school where he obtained his MD in June 1972.
On his return to Ghana in 1975, he worked in the Government Service till early 1978. He has been in private practice since June 1978. He is married with three children.
Customers Also Bought These