You are previewing:

Positive Health: Health Beyond Pills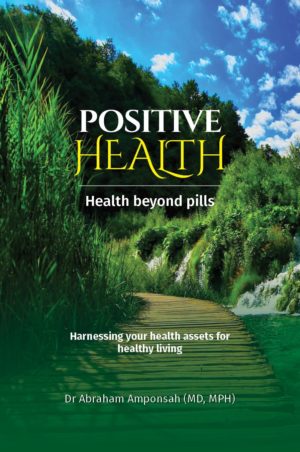 Positive Health: Health Beyond Pills
Positive Health: Health Beyond Pills
You don't exist on earth with the main purpose of fighting disease or illness yet much focus of today's health and healthcare is on how to take people out of negative health (disease and illness). Positive health however emphasises you as a healthy person with health assets for survival. In this book we discuss what those health assets are, that if you discover, cultivate or maintain you will ensure a healthy, happy and long life. In addition, we emphasise wellness as being spiritually, mentally, emotionally, socially and physically healthy, and we show you how to achieve this kind of holistic health.
₵40.00
SKU:

BK3658
Categories: African Authors, Author Origin, Family & Lifestyle, Ghana, Health, Internal Medicine, Medicine, Mental Health, Tertiary Textbooks, Textbooks
Tags: Abraham Amponsah, Dr Abraham Amponsah, Health Beyond Pills, Positive Health, Positive Health: Health Beyond Pills, Tertiary Textbook, Tertiary Textbooks, Textbook, Textbooks
Dr Abraham Amponsah is a Family Physician Specialist with passion for the promotion and provision of evidence-based preventive and holistic health services for individuals and groups. He is also an author, health coach, life coach and an entrepreneur committed to human character and capacity development.
He also holds a Master's degree in Public Health in the area of Health Services Planning and Management, a training that equipped him with the knowledge and skills of health education and promotion, healthcare planning and management, occupational health and safety, healthcare research, and generally preventing disease and promoting health within the public.
He is the founder of Marpe Health Consult Ltd, a health services company that is committed to providing preventive health, holistic health, and health consultancy services to individuals and organisations.
He is married to Dr Eva Amponsah and has three children namely, Phoebe, Chloe and Zoe.
Customers Also Bought These