You are previewing:

Outstanding Ewes of the 20th Century (Volume II)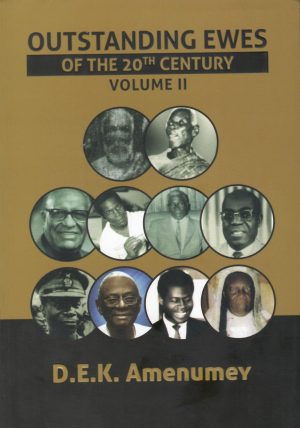 Outstanding Ewes of the 20th Century (Volume II)
Outstanding Ewes of the 20th Century (Volume II)
The profiles of ten eminent Ewe men in this second volume, like the fifteen men and women eulogised in volume one are also worthy examples of hard work, honesty, diligence and sacrifice which are values that the youth of today can draw much inspiration from. This covers the following personalities:
James Gordon Avedor
Henoga Vinoko Akpalu
Rev. Emeritus Prof. C. G. Baeta
David K. Ziga
S. G. Antor
R.S. Amegashie
Eric Adjorlolo
Lt. Gen. E.K. Kotoka
E.Y. Amedekey
Prof. Justice A.K.P Kludze
This is an invaluable volume to grace the library shelf in every home.
₵50.00
Only 2 left in stock
SKU:

BK5524
Categories: African Anthropology, African Authors, Anthropology, Author Origin, Biographies & Memoirs, Cultural Studies, Explore the World, Geography & Cultures, Ghana, Leaders & Notable People, Literature & Fiction, Politics & Social Sciences, Quotations, Reference, Social Science, Specific Demographics, Travel
Tags: D.E.K. Amenumey, Ewe, Outstanding Ewes of the 20th Century -Volume 2, Woeli Publishing
Customers Also Bought These