You are previewing:

Buck Press My KG1: Our World and Our People Workbook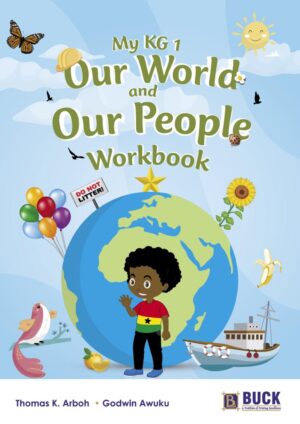 Buck Press My KG1: Our World and Our People Workbook
Buck Press My KG1: Our World and Our People Workbook
Suitable for children between 2 and 6 years
This Our World and Our People Workbook is specially designed to meet the needs of the Kindergarten child as he/she becomes curious about themselves and their environment. The book employs child-centered techniques like rhymes, songs and interactions with self, the immediate environment and the global environment. The activities in the book are designed to suit the
Ghanaian context and this elicits problem-solving, critical thinking, communication and leadership skills in the child.
Finally, all the activities are developed from the new Standard-based Curriculum and eliminate all potential barriers to learners (i.e. conceptual, linguistic, social, cultural, gender, or ability related) so that learning is equitable and inclusive.
₵20.00
Out of stock
SKU:

BK4291
Categories: Activities, Crafts & Games, Activity book, African Authors, Age Range, Ages 3-5 years, Alphabet, Author Origin, Baby - 2 years, Basic Concepts, Basic School Textbooks, Beginner Readers, Book Sets, Children & Teens, Early Childhood Education, Education & Teaching, Environment, Ghana, Illustrated books, Language Instruction, Languages, Nursery & Kindergarten Textbooks, Science & Math, Textbooks, Workbooks, Young Reader
Tags: Buck Press My KG1: Our World and Our People Workbook, Godwin Awuku, Kindergarten, NaCCA Approved, new curriculum, Nursery, o.w.o.p., Our World and Our People Workbook, OWOP Textbook, OWOP Textbooks, Textbook, Textbooks, Thomas Kofi Arboh, Workbook
Customers Also Bought These