You are previewing:

Mouse in Space! (Geronimo Stilton #52)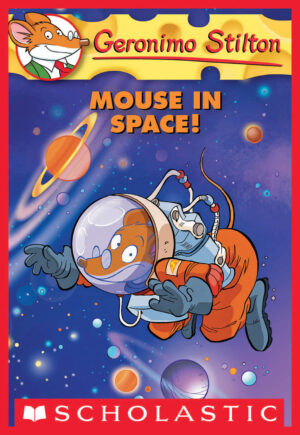 Mouse in Space! (Geronimo Stilton #52)
Sale!
Mouse in Space! (Geronimo Stilton #52)
Age Range: 7 – 12 years
Who Is Geronimo Stilton?
That's me! I run a newspaper, but my true passion is writing tales of adventure. Here on Mouse Island, my books are all best-sellers! What's that? You've never read one? Well, my books are full of fun. They are whisker-licking good stories, and that's a promise!
New Mouse City was in danger! An evil professor was threatening us all with his terrible inventions. The authorities called upon me, Geronimo Stilton, to thwart his plans by traveling on a top secret mission—to outer space! I was totally unprepared to go. But moldy mozzarella, my trip was out of this world!
₵50.00
Only 1 left in stock
SKU:

BK3977
Categories: 9-12 years, Action & Adventure, Age Range, Ages 6-8 years, Animals, Children & Teens, Humorous Fiction, Illustrated books, Mysteries & Detective Stories, Science Fiction & Fantasy
Tags: Geronimo Stilton, Mouse in Space!, Thea Stilton
A pseudonym of Elisabetta Dami, aka Thea Stilton.
Elisabetta Dami is an Italian author that currently resides in Italy. She is the author of the Geronimo Stilton series, a bestselling children's book. She enjoys traveling the world seeking ideas for her series. She writes under a pseudonym of Geronimo Stilton. She is also a co-owner of Italian based publishing company Edizioni Piemme. Her books have been translated into English by Scholastic Inc.