You are previewing:

Lights, Camera . . . Zombies! (Hardy Boys, The Secret Files #12)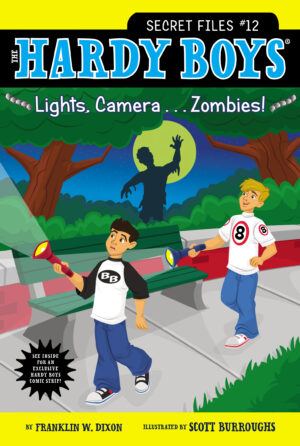 Lights, Camera . . . Zombies! (Hardy Boys, The Secret Files #12)
Lights, Camera . . . Zombies! (Hardy Boys, The Secret Files #12)
Age Range: 6 – 12 years
The boys track down an unusually undead suspect in this Hardy Boys Secret Files mystery.
Bayport is buzzing with excitement when a film crew sets up shop to film the latest zombie flick. Frank, Joe, and their friends are really psyched that there will be fake zombies running around town—not to mention a famous director and some of their favorite actors. They are hoping for a sighting or two, and maybe even an autograph, if they're lucky!
But things get a little too real when one of the boys' friends claims he saw an actual zombie in Bayport—nowhere near the shoot. Is someone just pulling a crazy prank? Or is the movie starting to take on a life of its own?
₵40.00
Only 1 left in stock
SKU:

BK4104
Categories: 9-12 years, Action & Adventure, Age Range, Ages 6-8 years, Author Origin, Book Sets, Children & Teens, Children Classics, Illustrated books, Literary Fiction, Literature & Fiction, Mysteries & Detective Stories, US/Canadian Authors, Young Reader
Tags: Camera . . . Zombies!, Franklin W Dixon, Hardy Boys, Lights, The Secret Files
Franklin W. Dixon is the pen name used by a variety of different authors (Leslie McFarlane, a Canadian author, being the first) who wrote The Hardy Boys novels for the Stratemeyer Syndicate (now owned by Simon & Schuster). This pseudonym was also used for the Ted Scott Flying Stories series.
Customers Also Bought These