You are previewing:

I Am Malala: How One Girl Stood Up for Education and Changed the World (Young Readers Edition)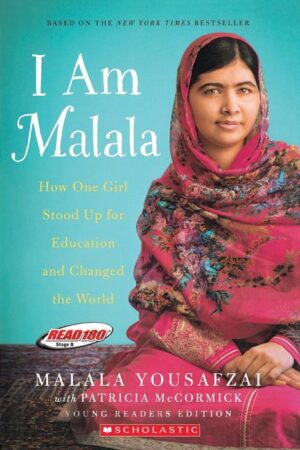 I Am Malala: How One Girl Stood Up for Education and Changed the World (Young Readers Edition)
I Am Malala: How One Girl Stood Up for Education and Changed the World (Young Readers Edition)
Age Range: 12 – 17 years
Malala Yousafzai was only ten years old when the Taliban took control of her region. They said music was a crime. They said women weren't allowed to go to the market. They said girls couldn't go to school.
Raised in a once-peaceful area of Pakistan transformed by terrorism, Malala was taught to stand up for what she believes. So she fought for her right to be educated. And on October 9, 2012, she nearly lost her life for the cause: She was shot point-blank while riding the bus on her way home from school. No one expected her to survive.
Now Malala is an international symbol of peaceful protest and the youngest ever Nobel Peace Prize winner. In this Young Readers Edition of her bestselling memoir, which includes exclusive photos and material, we hear firsthand the remarkable story of a girl who knew from a young age that she wanted to change the world — and did.
Malala's powerful story will open your eyes to another world and will make you believe in hope, truth, miracles and the possibility that one person — one young person — can inspire change in her community and beyond.
₵50.00
Only 1 left in stock
SKU:

BK4219
Categories: Asian Authors, Author Origin, Biographies & Memoirs, Civil Liberties & Political Activism, History, Leaders & Notable People, Politics & Social Sciences, Social Activists, Women in History
Tags: I Am Malala: How One Girl Stood Up for Education and Changed the World (Young Readers Edition), Malala, Malala Yousafzai, Patricia McCormick
Malala Yousafzai, the educational campaigner from Swat Valley, Pakistan, came to public attention by writing for BBC Urdu about life under the Taliban. Using the pen name Gul Makai, she often spoke about her family's fight for girls' education in her community. In October 2012 Malala was targeted by the Taliban and shot in the head as she was returning from school on a bus. She miraculously survived and continues her campaign for education.
In recognition of her courage and advocacy, Malala was honoured with the National Peace Prize in Pakistan in 2011 and nominated for the International Children's Peace Prize in the same year. She is the youngest ever person to win the NOBEL PEACE PRIZE, taking that honour in 2014. She was shortlisted for Time Magazine Person of the Year and has received numerous other awards.
Malala continues to champion universal access to education through The Malala Fund, a non-profit organization investing in community-led education programs and supporting education advocates around the world.