You are previewing:

Freshwater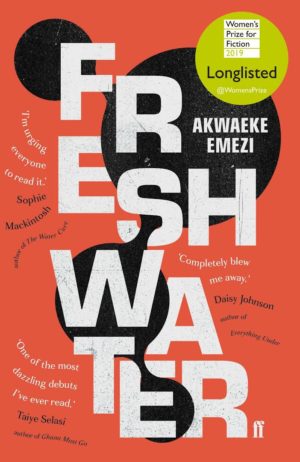 Freshwater
Freshwater
An extraordinary debut novel, Freshwater explores the surreal experience of having a fractured self. It centers around a young Nigerian woman, Ada, who develops separate selves within her as a result of being born "with one foot on the other side." Unsettling, heartwrenching, dark, and powerful, Freshwater is a sharp evocation of a rare way of experiencing the world, one that illuminates how we all construct our identities.
Ada begins her life in the south of Nigeria as a troubled baby and a source of deep concern to her family. Her parents, Saul and Saachi, successfully prayed her into existence, but as she grows into a volatile and splintered child, it becomes clear that something went terribly awry. When Ada comes of age and moves to America for college, the group of selves within her grows in power and agency. A traumatic assault leads to a crystallization of her alternate selves: Asụghara and Saint Vincent. As Ada fades into the background of her own mind and these selves–now protective, now hedonistic–move into control, Ada's life spirals in a dark and dangerous direction.
Narrated by the various selves within Ada and based in the author's realities, Freshwater dazzles with ferocious energy and serpentine grace, heralding the arrival of a fierce new literary voice.
₵75.00
Out of stock
SKU:

BK2328
Categories: African Anthropology, African Authors, Author Origin, Contemporary Fiction, Cultural Studies, Genre Fiction, Geography & Cultures, Literary Fiction, Literature & Fiction, Nigeria, Urban Life
Tags: Akwaeke Emezi, Freshwater, Magical Realism, Mental Illness
Akwaeke Emezi makes her young adult debut with Pet on the inaugural Make Me a World list. An honoree on the National Book Foundation's "5 Under 35" list, a long-list nominee for the Carnegie Medal for Excellence, and a short-list nominee for the Center for Fiction's First Novel Prize, Akwaeke continues to receive accolades for their adult debut, Freshwater. The autobiographical novel also received rave reviews from the New York Times, the Wall Street Journal, the New Yorker, and the Los Angeles Times, among others, as well as starred reviews from Library Journal and Booklist. Their sophomore adult novel, The Death of Vivek Oji, is forthcoming in 2020 from Riverhead.
Learn more about Akwaeke at Akwaeke.com or on Twitter at @azemezi.