You are previewing:

Big Nate Payback Time!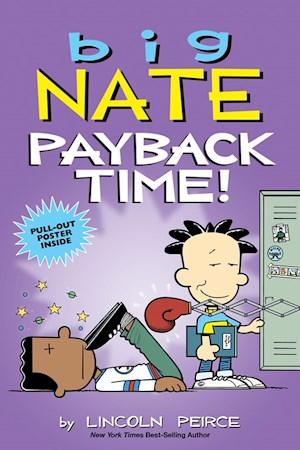 Big Nate Payback Time!
Related Products
Customers Also Bought These
Big Nate Payback Time!
Age Range: 8 – 12 years
In this brand-new collection of the NEW YORK TIMES BESTSELLING series Big Nate, everyone's favorite prankster takes on everything from epic snowball fights to sixth-grade crushes, with plenty of hilarious misadventures along the way.
Look out, Big Nate fans—it's payback time!
In this brand-new collection of Big Nate comics, Nate develops a mysterious allergy to Mrs. Godfrey, wages epic snowball fights with Teddy and Francis, and even takes a nervous newbie under his wing during detention. But after a disastrous run-in with Randy in the cafetorium, our hero faces a dreaded after-school showdown on the soccer field.  Will Nate survive or get kicked around?
From wedgies and food fights to Halloween pranks and sixth-grade crushes, Big Nate: Payback Time! has got it all.
₵50.00
Out of stock
SKU:

BK4013
Categories: 9-12 years, Age Range, Ages 6-8 years, Children & Teens, Comics & Graphic Novels, Friendship, Growing Up & Facts of Life, Humorous Fiction, Illustrated books
Tags: Big Nate, Big Nate Payback Time!, Lincoln Peirce
Lincoln Peirce (pronounced "purse") is a cartoonist/writer and New York Times bestselling author of the hilarious Big Nate book series (www.bignatebooks.com), now published in twenty-five countries worldwide and available as ebooks and audiobooks and as an app, Big Nate: Comix by U! He is also the creator of the comic strip Big Nate. It appears in over three hundred U.S. newspapers and online daily at www.gocomics.com/bignate. Lincoln's boyhood idol was Charles Schulz of Peanuts fame, but his main inspiration for Big Nate has always been his own experience as a sixth grader. Just like Nate, Lincoln loves comics, ice hockey, and Cheez Doodles (and dislikes cats, figure skating, and egg salad). His Big Nate books have been featured on Good Morning America and in the Boston Globe, the Los Angeles Times, USA Today, and the Washington Post. He has also written for Cartoon Network and Nickelodeon. Lincoln lives with his wife and two children in Portland, Maine.
Customers Also Bought These