You are previewing:

Baba Chibsah: Inspirational Story of an Illustrious Migrant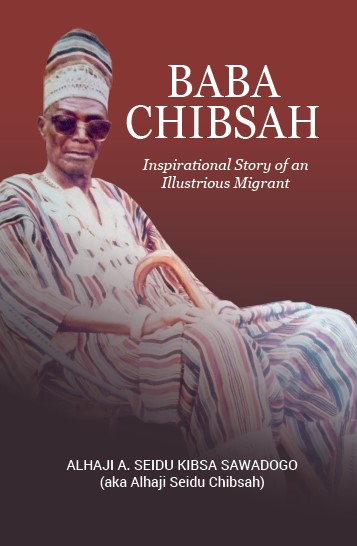 Baba Chibsah: Inspirational Story of an Illustrious Migrant
Baba Chibsah: Inspirational Story of an Illustrious Migrant
Baba Chibsah: Inspirational Story of an Illustrious Migrant is one of those books that take the reader on a journey of illumination. At the core of the story is the life of Baba Chibsah, who was both a visionary and practical man who was driven by his own idealism and belief in God and community to achieve goals he could not have comprehended when he set out from his home in the Upper Volta (now Burkina Faso), to work in the Gold Coast (Ghana) in 1922. His immediate aim was to earn enough money to buy a bicycle. Taking every opportunity that came his way, the acclaimed founder of Tafo Zongo never went back but created a community and values worth celebrating.
His adventures read like a story out of a thriller movie. However, the story breaks free of its boundaries and becomes the history of a whole generation. This book teaches more about life in pre-independence times, not only in Ghana but in our West African sub-region than most textbooks. Here the story of migration, impact of European colonial policy, social interaction, Islamic movements and trends, and indeed the development of the Tafo-Suame enclave in Kumasi are all laid out here in cinematic detail.
Alhaji Seidu Kibsa Sawadogo aka Alhaji Seidu Chibsah has not only honoured his father and his generation but also produced a history masterpiece.
₵200.00
Available on backorder
SKU:

BK6252
Categories: African Anthropology, African Authors, African Biographies, African History, African Studies, Anthropology, Author Origin, Biographies & Memoirs, Civilization & Culture, Cultural Studies, Explore the World, Geography & Cultures, Ghana, Historical, History, Leaders & Notable People, Nation building, Politics & Social Sciences, Politics & State, Religious Leaders, Social Activists, Sociology, Traditional Rulers, West African History, World
Tags: Africa, Baba Chibsah: Inspirational Story of an Illustrious Migrant, Burkina Faso, DigiBooks Ghana Ltd, Ghana, Northern Ghana, Seidu Chibsah, Seidu Kibsa Sawadogo, Tafo Zongo
Alhaji Seidu Kibsa Sawadogo aka Alhaji Seidu Chibsah, is a product of T. I. Ahmadiyya Secondary School and Prempeh College both in Kumasi, University of Ghana, Legon and the University of Bradford, West Yorkshire, UK. He joined the Development Finance Department of Bank of Ghana as a probationary officer in September 1972. He rose through the ranks to become an Assistant Manager in the same Department.
In February 1982 he resigned from the service of the Bank to join the United Nations System, UNICEF to be specific as an international staff. He worked continuously for a total of 22 years in the UN system which took him to six countries: Burkina Faso, Central African Republic, Nigeria, Tanzania, Cambodia and Yemen. He retired at the end of August 2004. After his retirement, the UN solicited his expertise as a consultant for a total of one year to assist the UNICEF Country Offices in Djibouti and Chad.
His main post-retirement activities have been farming, promotion of peace and improvement in sanitary conditions within the community in his capacity as the Sarkin Zongo. In recognition of his immeasurable support for Peace Programme organised on the 15th and 22nd October in connection with the 2016 general elections, the Parish Youth Council (P.Y.C.) of St. Anthony's Catholic Church and the Coalition of Old Tafo Youth Leaders (COTYL) issued in his honour a remarkable Peace Citation.
As a farmer, "EMBIK FARMS", a twenty-acre farm he established in 1990 at Agona Abrakaso in Ashanti Region, won the best district cattle farmer in 1992, the overall best district farmer in 2005 and the best district tree crop (coconut) farmer in 2017.
Customers Also Bought These