You are previewing:

A Rockin' Mystery (Hardy Boys, The Secret Files #10)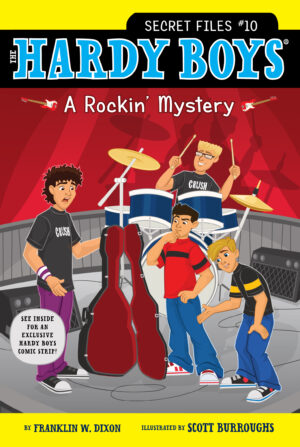 A Rockin' Mystery (Hardy Boys, The Secret Files #10)
A Rockin' Mystery (Hardy Boys, The Secret Files #10)
Age Range: 6 – 12 years
In this Hardy Boys Secret Files mystery, a missing bass guitar causes a few wrong notes at the Battle of the Bands.
Frank and Joe are thrilled to learn that the popular band, Crush, is scheduled to perform in Bayport's huge Battle of the Bands—and even more excited when they find out that their friend's brother, Dylan, is the bass guitarist. But on the day of the performance, Dylan's prized guitar has gone missing!
Could someone from a rival band have taken it in hopes of gaining an advantage? Or could the culprit be someone closer to home? It's up to Frank and Joe to investigate this rocking mystery—or else Crush might be crushed in the competition!
₵40.00
Out of stock
SKU:

BK4106
Categories: 9-12 years, Action & Adventure, Age Range, Ages 6-8 years, Author Origin, Book Sets, Children & Teens, Children Classics, Illustrated books, Literary Fiction, Literature & Fiction, Mysteries & Detective Stories, US/Canadian Authors, Young Reader
Tags: A Rockin' Mystery, Franklin W Dixon, Hardy Boys, Lights, The Secret Files
Franklin W. Dixon is the pen name used by a variety of different authors (Leslie McFarlane, a Canadian author, being the first) who wrote The Hardy Boys novels for the Stratemeyer Syndicate (now owned by Simon & Schuster). This pseudonym was also used for the Ted Scott Flying Stories series.
Customers Also Bought These