You are previewing:

5 Things You Must Know About Missions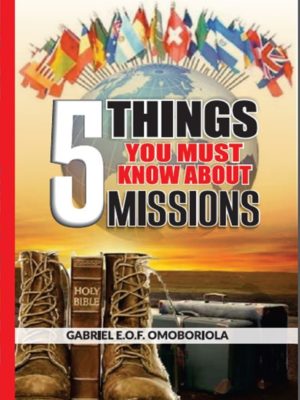 5 Things You Must Know About Missions
5 Things You Must Know About Missions
The world is in a frantic position. Things are falling apart and every effort to hold them up has proved abortive. In our time, more systems have been tested over and over again but none has been able to provide holistic solution. The world is in pains and desperate in need of a loving able hands to help.
This is where we come in. You and I are saved and sanctioned to bring God's loving touch to this dying world. You are in God's mission; a mission calling the world back to the place of WORSHIP. The night is falling and the curtain is dropping slowly, yet about two billion people are still waiting for the Good News.
Will you rise and obey the ultimate call? Will you respond to the invitation to use temporary things to gain priceless eternal stuff?
Gabriel E.O.F. Omoboriola is an Apostle called to raise unconditional leaders with blissful home. He is the founder and lead minister at The House Of Latter Glory and the President of HOLAG Institute of Biblical Studies. E.O.F. is a strong lover of mission and this led him to establish Heralds On Mission International; a Christian mission organization with the vision to take territories for Christ and to reach the unreached. He is the author of The Heartbeat Devotional, the first ever mission biographical devotional. Gabriel E.O.F. Omoboriola is also the host of Blissful Home, a monthly relationship training programme. He has authored books on various subjects and regularly speaks in various programmes. He is married to Pastor Temitope A. Omoboriola and they are blessed with wonderful children.