You are previewing:

Yaw Dɔnkɔ (Asante Twi)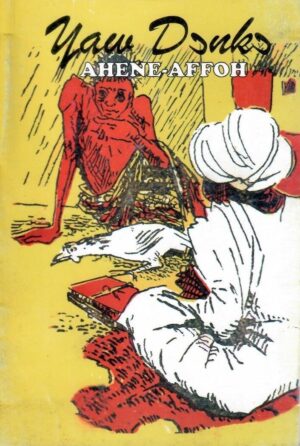 Yaw Dɔnkɔ (Asante Twi)
Related Products
Customers Also Bought These
Yaw Dɔnkɔ (Asante Twi)
Nnipa pii wo wiase ha a wɔde brakyew fi abrabɔ ase nanso awiekyiri no, wobɛdan amamma anaa anipa a wodi mu. Ɔkyerewfo no nam Yaw Dɔnkɔ bra so yi nnipa a ɛtete saa no mfonini kyerɛ.
Yaw Dɔnkɔ yɛ ne na bakoro, nanso efi ne mmofraase pɛɛ na ɔtew anwen. Atuatew, atuntunasɛm ne awurukasɛm a ɔde sii n'ani so no ma odii amia ara yiye. Nanso akyiri no, ne kra sii no ayowa mu, ma obɛyee onipa mu.
₵15.00
Only 1 left in stock
SKU:

BK4178
Categories: African Authors, Akan, Asante Twi, Author Origin, Education & Teaching, Ghana, Language Instruction, Languages, Literature & Fiction, Reference, Short Story Collections
Tags: Ahene-Affoh, Asante Twi, Sɛmanyia, Twi book, Yaw Dɔnkɔ (Asante Twi)
Wɔwoo Ahene-Affoh wɔ akurda bi a ɛbɛn Kraboa Coaltar. Ofi Akuapem Datɛ na wɔtetew no wɔ St. Andrew's Training College a ɛwɔ Asante Mampɔn no, ne Presbyterian Training College wɔ Akuropon Akuapem.
Ɔkyerɛɛ ade mfe pii, na nkurow a ɔkyerɛɛ mu ade ne Apeguso, Juaso ne Aburi-Amamfo. Afe 1965 mu na ofii adekyerɛ mu kɔɔ Bureau of Ghana Languages. Afe 1973 mu na Bureau of Ghana Languages de ne nwoma a edi kan a wofrɛ no Ɔdɔ Asaawa no puee gua. Afe 1975 mu na obaa Ghana Publishing Corporation bɛyɛɛ adwuma. Oyɛɛ Samufo Panyin wɔ Ghana Publishing Corporation (Publishing Division) bɛyɛ mfe aduonu ansa na ɔrepɔn adwuma.
Nneɛma a n'ani gye ho ne ne nwomakan, nwomakyerɛw, kua ne mmoayɛn.
Ne nwoma foforo nso a wakyerɛw ne: Ɔdɔ Asaawa, Sɛmanhyia, Twi Kasakoa ne Kasatɔmmɛ ahorow bi, Ɔsɛnnahɔ ne Abotafowa 1-6.
Customers Also Bought These