You are previewing:

Yaa Traps Death In A Basket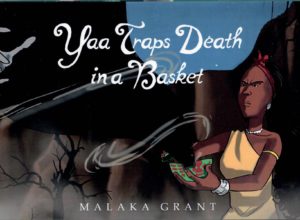 Yaa Traps Death In A Basket
Yaa Traps Death In A Basket
In a time when demi-gods and mortals lived in the Earth together, there lived an awkward little girl named Yaa whose only virtue was her kindness. When her parents sent her away on a fool's errand, Yaa meets a wild boy and three spirits whose actions would change her life forever and shape the course of humankind for years to follow.
How could a shy little girl with clumsy feet and little imagination change the world?
See what happens when Yaa traps Death in her basket to find out!
₵38.00
SKU:

BK2703
Categories: 9-12 years, Action & Adventure, African Authors, Age Range, Ages 6-8 years, Author Origin, Children & Teens, Fairy Tales & Folklore, Family, Ghana, Growing Up & Facts of Life, Illustrated books, Literature & Fiction, Young Reader
Tags: Malaka Grant, Poka Arts
I began publishing in a time when the legitimacy of African authors was wholly dependent on how much war, famine or poverty their protagonists could endure before being 'saved' by a benevolent, foreign force. That was our pigeon hole.
Technology - and self-publishing by extension - has been a boon to authors who have not considered part of the traditional mainstream. Such platforms that technology has presented allow us to explore and bring to our readers our unique brand of comedy, humor, romance...even Afro-futurism and sci-fi.
I choose to write as my heart and my conscience compel me.