You are previewing:

Geronimo Stilton: Watch Your Tail! (Cavemice #2)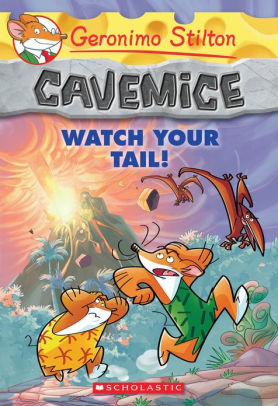 Geronimo Stilton: Watch Your Tail! (Cavemice #2)
Sale!
Geronimo Stilton: Watch Your Tail! (Cavemice #2)
Age Range: 7 – 12 years
Geronimo Stilton meets the Stone Age in this NEW spin-off series!
Who is Geronimo Stiltonoot?
He is a cavemouse — Geronimo Stilton's ancient ancestor. He runs the stone newspaper in the prehistoric village of Old Mouse City. From dealing with dinosaurs to dodging meteorites, his life in the Stone Age is full of adventure!
WATCH YOUR TAIL!
Geronimo Stiltonoot wakes up to a terrible morning. Meteors are falling from the sky, and it seems like everyone in Old Mouse City has an awful stomachache! Geronimo must travel to the Cave of Memories to find the ancient shaman cure for his fellow cavemice. But dangers lurk on his journey — can he make it back home safely?
₵50.00
Out of stock
SKU:

BK4236
Categories: 9-12 years, Action & Adventure, Age Range, Ages 6-8 years, Animals, Children & Teens, Humorous Fiction, Illustrated books, Mysteries & Detective Stories, Science Fiction & Fantasy
Tags: Cavemice, Geronimo Stilton, Thea Stilton, Watch Your Tail!
A pseudonym of Elisabetta Dami, aka Thea Stilton.
Elisabetta Dami is an Italian author that currently resides in Italy. She is the author of the Geronimo Stilton series, a bestselling children's book. She enjoys traveling the world seeking ideas for her series. She writes under a pseudonym of Geronimo Stilton. She is also a co-owner of Italian based publishing company Edizioni Piemme. Her books have been translated into English by Scholastic Inc.