You are previewing:

Thea Stilton Special Edition: The Journey to Atlantis (Hardcover)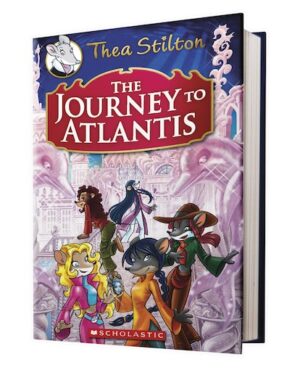 Thea Stilton Special Edition: The Journey to Atlantis (Hardcover)
Thea Stilton Special Edition: The Journey to Atlantis (Hardcover)
Age Range: 7 – 12 years
It's the journey of a lifetime, as Thea takes you deep into a mystical world of secret identities, lost kingdoms and the hidden isle of Atlantis. When a strange boy with blue skin, who speaks an unfamiliar language, washes up on the beach, it sparks an incredible journey into the unknown that takes you around the world, under the sea, and ends at the strange and unexplored land of Atlantis. As Thea hunts for clues about the boy's origins, the questions build up: where does he come from? Who are his family? Could he be prince of the underwater world of Atlantis? It's up to the Thea Sisters to discover his identity and get him back home!
A pseudonym of Elisabetta Dami, aka Geronimo Stilton.
Elisabetta Dami is an Italian author that currently resides in Italy. She is the author of the Geronimo Stilton series, a bestselling children's book. She enjoys traveling the world seeking ideas for her series. She writes under a pseudonym of Geronimo Stilton. She is also a co-owner of Italian based publishing company Edizioni Piemme. Her books have been translated into English by Scholastic Inc.