You are previewing:

The Three Little Wolfettes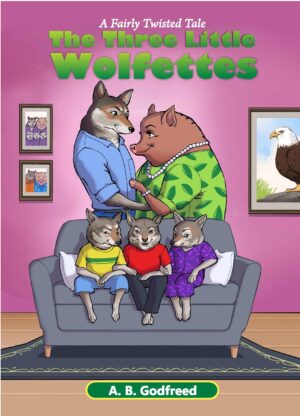 The Three Little Wolfettes
Related Products
Customers Also Bought These
The Three Little Wolfettes
Age Range: 6 – 18  years
Once upon a time, there was a Daddy Wolf and his three little ugly wolf-cubs. They lived together lovingly in a deep dark forest. Until the day his daughters came of age and they had to leave home to set up on their own. This they did with some difficulty, as they did not know how best to fend for themselves. Moreover, they also had to watch out for a big bad and hostile hog. But with time, teamwork, and determination, the wolfettes survived their forest escapades. And being so kind, they made friends with the big bad hog too. At the end of this tale, Daddy Wolf is reunited with his darling daughters and they all-together lived HAPPILY EVER AFTER.
₵15.00
Out of stock
SKU:

BK3679
Categories: 9-12 years, Action & Adventure, Ages 6-8 years, Animals, Children & Teens, Children Classics, Education & Teaching, Fairy Tales, Fairy Tales & Folklore, Family, Growing Up & Facts of Life, Illustrated books, Literature & Fiction, Teens, Young Reader
Tags: A.B. Godfreed, Animal Life, Fairytales, Family, love, The Three Little Wolfettes
A.B. Godfreed is a none-entity, who is determined to transform herself, and perhaps also the world, with critical consciousness and a whole lot of LOVE. She does this namely by sharing artwork and her writing about the mundane but wonderous nature of our epigenetic existence, in order to highlight the oneness of us all—even in our plentiful diversity.
Customers Also Bought These