You are previewing:

The Matarese Circle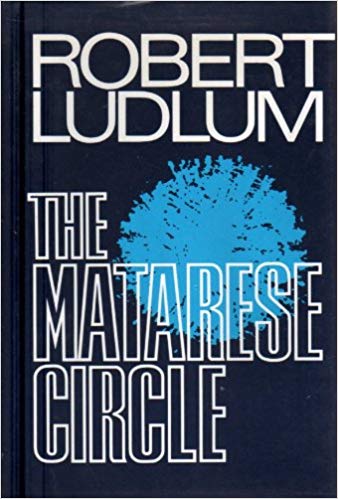 The Matarese Circle
The Matarese Circle
An international circle of killers, the Matarese will undoubtedly take over the world within just two years. Only two rival spies have the power to stop them: Scofield, CIA, and Talaniekov, KGB. They share a genius for espionage and a life of explosive terror and violence. But though these sworn enemies once vowed to terminate each other, they must now become allies. Because only they possess the brutal skills and ice-cold nerves vital to their mission: destroy the Matarese.
Praise for Robert Ludlum and The Matarese Circle
 
"A blockbuster . . . Ludlum's best."—The Wall Street Journal
 
"A spellbinder."—The Dallas Morning News
"Ludlum stuffs more surprises into his novels than any other six-pack of thriller writers combined."—The New York Times
"Don't ever begin a Ludlum novel if you have to go to work the next day."—Chicago Sun-Times
₵40.00
Out of stock
SKU:

BK2109
Categories: Assassinations, Conspiracies, Espionage, Literature & Fiction, Mystery, Thriller & Suspense, Political, Spies & Politics, Suspense, Terrorism
Tags: Espionage, Robert Ludlum, Thriller
Robert Ludlum was the author of twenty-seven novels, each one a New York Times bestseller. There are more than 210 million of his books in print, and they have been translated into thirty-two languages. He is the author of The Scarlatti Inheritance, The Chancellor Manuscript, and the Jason Bourne series--The Bourne Identity, The Bourne Supremacy, and The Bourne Ultimatum--among others. Mr. Ludlum passed away in March, 2001. Ludlum also published books under the pseudonyms Jonathan Ryder and Michael Shepherd.
Some of Ludlum's novels have been made into films and mini-series, including The Osterman Weekend, The Holcroft Covenant, The Apocalypse Watch, The Bourne Identity, The Bourne Supremacy and The Bourne Ultimatum. A non-Ludlum book supposedly inspired by his unused notes, Covert One: The Hades Factor, has also been made into a mini-series. The Bourne movies, starring Matt Damon in the title role, have been commercially and critically successful (The Bourne Ultimatum won three Academy Awards in 2008), although the story lines depart significantly from the source material.