You are previewing:

The Lord of the Rings (3 Book Box set): The Fellowship of the Ring/The Two Towers/The Return of the King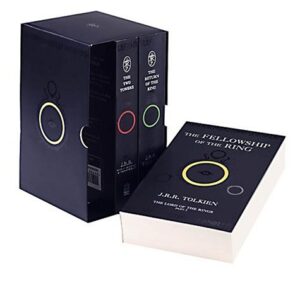 The Lord of the Rings (3 Book Box set): The Fellowship of the Ring/The Two Towers/The Return of the King
Related Products
Customers Also Bought These
The Lord of the Rings (3 Book Box set): The Fellowship of the Ring/The Two Towers/The Return of the King
Continuing the story of The Hobbit, this three-volume boxed set of Tolkien's epic masterpiece, The Lord of the Rings, features striking black covers based on Tolkien's own design, the definitive text, and three maps including a detailed map of Middle-earth.
Sauron, the Dark Lord, has gathered to him all the Rings of Power – the means by which he intends to rule Middle-earth. All he lacks in his plans for dominion is the One Ring – the ring that rules them all – which has fallen into the hands of the hobbit, Bilbo Baggins.
In a sleepy village in the Shire, young Frodo Baggins finds himself faced with an immense task, as his elderly cousin Bilbo entrusts the Ring to his care. Frodo must leave his home and make a perilous journey across Middle-earth to the Cracks of Doom, there to destroy the Ring and foil the Dark Lord in his evil purpose.
Since it was first published in 1954, 'The Lord of the Rings' has been a book people have treasured. Steeped in unrivalled magic and otherworldliness, its sweeping fantasy has touched the hearts of young and old alike.
J.R.R. Tolkien (1892.1973), beloved throughout the world as the creator of The Hobbit and The Lord of the Rings, was a professor of Anglo-Saxon at Oxford, a fellow of Pembroke College, and a fellow of Merton College until his retirement in 1959. His chief interest was the linguistic aspects of the early English written tradition, but even as he studied these classics he was creating a set of his own.
Customers Also Bought These