You are previewing:

The Fist of God (Hardcover)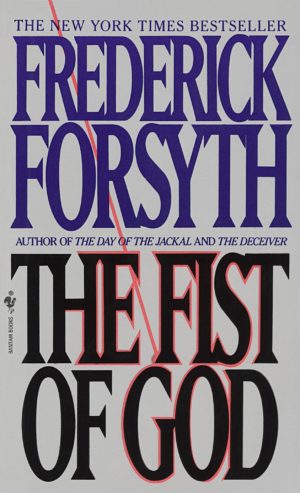 The Fist of God (Hardcover)
The Fist of God (Hardcover)
From the bestselling author of The Day of the Jackal, international master of intrigue Frederick Forsyth, comes a thriller that brilliantly  blends fact with fiction for one of this summer's–or any season's–most  explosive reads!
From the behind-the-scenes decision-making of the Allies to the secret meetings of Saddam Hussein's war cabinet, from the brave American fliers running their dangerous missions over Iraq to the heroic young spy planted deep in the heart of Baghdad, Forsyth's incomparable storytelling skill keeps the suspense at a breakneck pace. Somewhere in Baghdad is the mysterious "Jericho," the traitor who is willing–for a price–to reveal what is going on in the high councils of the Iraqi dictator.  But Saddam's ultimate weapon has been kept secret even from his most trusted advisers, and the nightmare scenario that haunts General Schwarzkopf and his colleagues is suddenly imminent, unless somehow, the spy can locate that weapon–The Fist of God–in time.
Peopled with vivid characters, brilliantly displaying Forsyth's incomparable, knowledge of intelligence operations and tradecraft, moving back and forth between Washington and London, Baghdad and Kuwait, desert vastnesses and city bazaars, this breathtaking novel is an utterly convincing story of what may actually have happened behind the headlines
₵40.00
Out of stock
SKU:

BK2101
Categories: Assassinations, Conspiracies, Espionage, Literature & Fiction, Mystery, Thriller & Suspense, Political, Spies & Politics, Suspense, Terrorism
Tags: Espionage, Frederick Forsyth, Spies, Thriller
Frederick Forsyth, CBE is an English author and occasional political commentator. He is best known for thrillers such as The Day of the Jackal, The Odessa File, The Fourth Protocol, The Dogs of War, The Devil's Alternative, The Fist of God, Icon, The Veteran, Avenger, The Afghan, and recently The Cobra and The Kill List.
The son of a furrier, he was born in Ashford, Kent, educated at Tonbridge School and later attended the University of Granada. He became one of the youngest pilots in the Royal Air Force at 19, where he served on National Service from 1956 to 1958. Becoming a journalist, he joined Reuters in 1961 and later the BBC in 1965, where he served as an assistant diplomatic correspondent. From July to September 1967, he served as a correspondent covering the Nigerian Civil War between the region of Biafra and Nigeria. He left the BBC in 1968 after controversy arose over his alleged bias towards the Biafran cause and accusations that he falsified segments of his reports. Returning to Biafra as a freelance reporter, Forsyth wrote his first book, The Biafra Story in 1969.
Forsyth decided to write a novel using similar research techniques to those used in journalism. His first full length novel, The Day of the Jackal, was published in 1971 and became an international bestseller and gained its author the Edgar Allan Poe Award for Best Novel. It was later made into a film of the same name.