You are previewing:

The Dead Stay Dumb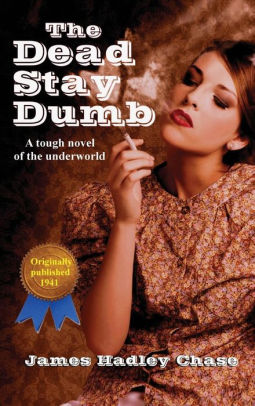 The Dead Stay Dumb
The Dead Stay Dumb
$5,000 Reward – Dead or Alive – That was the price on Dillon's head.
The nightmare tale of the life and death of Dillon, American gangster. From the first to the last page, the ruthlessness of an inhuman killer is set down with stark realism. Chase's second book.
A cold, ruthless racketeer, Dillon had risen from lackey gunman to Kansas City boss. Now he was big time, big money.
But then Dillon started living it up with two young beauties – and began to make mistakes. And once Dillon's guard was down, an outsider got his chance to pull a gruesome doubletake.
Death was right around the corner…
Dillon didn't take his eyes off the exit to the dark alley. He went on, keeping his gun ready. The open street ahead of him, the deep shadows, and the knowledge that death was waiting for him made his nerves tingle.
Quite suddenly two men sprang into the alley. Dillon could see them outlined against a street light. Instantly, he started firing before his brain telegraphed to his hand.
One of the men tossed up his hands and fell forward, but the other ducked out of sight – now more determined than ever to see Dillon dead.
Dillon has been out of the rackets for some time ; now he was ready to carve his way back in. Ambitious, cold-blooded, impatient, he just needed a start, and one or two unlucky people to help him on his way. He found them. Like Nick Gurney and Roxy, small-time operators who reckoned Dillon was the coming man…
Myra, the curvaceous boxer's daughter tired of small-town life and reckless for excitement… and Hurst, the racketeer who ruled half a city. One way and another, they all helped Dillon, while Dillon helped himself. He didn't hear any complaints either, for a long time…
René Lodge Brabazon Raymond was born on 24th December 1906 in London, England, the son of Colonel Francis Raymond of the colonial Indian Army, a veterinary surgeon. His father intended his son to have a scientific career, was initially educated at King's School, Rochester, Kent. He left home at the age of 18 and became at different times a children's encyclopedia salesman, a salesman in a bookshop, and executive for a book wholesaler before turning to a writing career that produced more than 90 mystery books. His interests included photography (he was up to professional standard), reading and listening to classical music, being a particularly enthusiastic opera lover. Also as a form of relaxation between novels, he put together highly complicated and sophisticated Meccano models.
In 1932, Raymond married Sylvia Ray, who gave him a son. They were together until his death fifty three years later. Prohibition and the ensuing US Great Depression (1929–1939), had given rise to the Chicago gangster culture just prior to World War II. This, combined with her book trade experience, made him realise that there was a big demand for gangster stories. He wrote as R. Raymond, James Hadley Chase, James L. Docherty, Ambrose Grant and Raymond Marshall.
During World War II he served in the Royal Air Force, achieving the rank of Squadron Leader. Chase edited the RAF Journal with David Langdon and had several stories from it published after the war in the book Slipstream: A Royal Air Force Anthology.
Raymond moved to France in 1956 and then to Switzerland in 1969, living a secluded life in Corseaux-sur-Vevey, on Lake Geneva, from 1974. He eventually died there peacefully on 6 February 1985.