You are previewing:

The Dangerous Transmission (Hardy Boys Mysteries #184)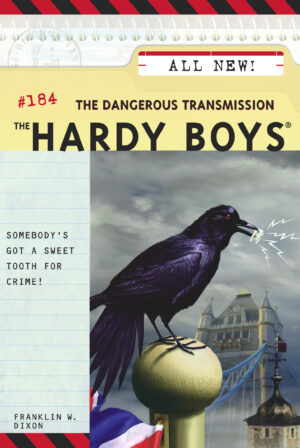 The Dangerous Transmission (Hardy Boys Mysteries #184)
The Dangerous Transmission (Hardy Boys Mysteries #184)
Age Range: 8 – 12 years
IT'D BE A CRIME TO LOSE THIS TOOTH
While on holiday in London, Frank and Joe Hardy learn that a new invention — a voice transmitter that can be implanted in a tooth — has been stolen. The prime suspect is a notorious spy who has recently been spotted in London, but shortly after the Molar Mike is stolen, the Hardys catch a trespasser in the lab where the transmitter originated. The suspect list is growing, and there's little time to spare.
To catch this wily criminal, Frank and Joe need to hunt all over London — from back alleys to the Tower of London. With new suspects popping up at every turn, and disaster threatening the teens, can they manage to sink their teeth into the crook before it's too late?
₵40.00
Out of stock
SKU:

BK4462
Categories: 9-12 years, Action & Adventure, Age Range, Ages 6-8 years, Author Origin, Book Sets, Children & Teens, Children Classics, Illustrated books, Literary Fiction, Literature & Fiction, Mysteries & Detective Stories, Teens, US/Canadian Authors, Young Reader
Tags: Franklin W Dixon, Hardy Boys, The Dangerous Transmission, The Dangerous Transmission (Hardy Boys Mysteries #184)
Franklin W. Dixon is the pen name used by a variety of different authors (Leslie McFarlane, a Canadian author, being the first) who wrote The Hardy Boys novels for the Stratemeyer Syndicate (now owned by Simon & Schuster). This pseudonym was also used for the Ted Scott Flying Stories series.
Customers Also Bought These